Last weeks' #TBT poem was by the new U.S. Poet Laureate, Charles Wright. This week's poem is by our previous Poet Laureate, Philip Levine,
This week's selection is "Commanding Elephants " from Philip Levine's Not This Pig (1968).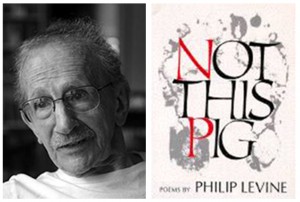 .
.
COMMANDING ELEPHANTS
Lonnie said before this, "I'm
the chief of the elephants,
I call the tunes and they dance."
From his bed he'd hear the drum
of hooves in the bricked alley
and the blast of the Sheenie
calling for rags, wood, paper,
glass—all that was left over—
and from this he'd tell the time.
Beside the bed on a chair
the clean work pants, on the door
the ironed work shirt with his name,
and in the bathroom father
than he could go in the hight-top
lace-up boots, the kind the scouts
wore and he'd worn since
he was twelve. To be asleep
hours after dawn, to have
a daughter in school when he
woke, a wife in the same shop
where he'd seen the foreman
and said Go, where he'd tripped
the columns of switches and
brought the slow elephant feet
of the presses sliding down
in grooves as they must still do
effortlessly for someone.
"Oh my body, what have you
done to me?" he never said.
His hands surprised him; smelling
of soap, they lay at his sides
as though they were listening.
PHILIP LEVINE has published many books of poetry – of which Not This Pig was his second – as well as translations of poetry from the Spanish. Among his many awards are the Lenore Marshall Poetry Prize, two National Book Critics Circle Awards, the American Book Award, the National Book Award for Poetry, and a Pulitzer Prize. He has served as the Chancellor of the Academy of American Poets and the 18th United States Poet Laureate.