The world of cinema has suffered a loss with the passing of Paul Mazursky, who died on Monday at the age of 84. Read his obituary in the New York Times here.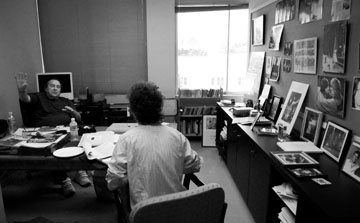 (Sam Wasson with Paul Mazursky, photo by Gary Copeland.)
In 1978, Times critic Richard Corliss wrote that Mr. Mazursky was "likely to be remembered as the filmmaker of the '70s." At times under-appreciated, his films—including Bob & Carol & Ted & Alice, An Unmarried Woman, and Enemies, A Love Story—are subtle, biting comedies with a deep humanity at their center. In all his work, he commented on broad cultural trends with generosity, presenting characters that Quentin Tarantino called "some of the decade's finest."
Two of our Wesleyan authors have had the honor of writing about Mr. Mazursky. Sam Wasson sat down with him for Paul on Mazursky (2011), talking through Mr. Mazursky's oeuvre in conversations that are as funny and warm as the films themselves. And Rose Eichenbaum interviewed Mr. Mazursky for her forthcoming book The Director Within. "[He] had me laughing so hard during our photo session," she says, "that I could hardly operate my camera."
"I find it pretentious to call myself an artist," Mr. Mazursky said in conversation with Ms. Eichenbaum. "I love art, and I know I have artistic tendencies, but what does it mean to be an artist? While Michelangelo was lying on his back painting the Sistine Chapel, he wasn't thinking to himself, I'm being an artist. He was probably thinking, My back hurts!"
But whatever we call Mr. Mazursky, his legacy of innovation and heart will shape American cinema for years to come.