This week's Throwback Thursday selection is "Prayer Rug," from Agha Shalid Ali's 1987 collection The Half-Inch Himalayas (also available in a special-edition minibook).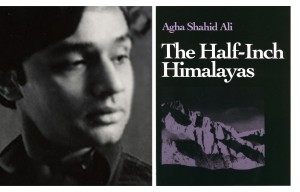 .
.
Prayer Rug

Those intervals
between the day's
five calls to prayer

the women of the house
pulling thick threads
through vegetables

rosaries of ginger
of rustling peppers
in autumn drying for winter

in those intervals this rug
part of Grandma's dowry
folded

so the Devil's shadow
would not desecrate
Mecca scarlet-woven

with minarets of gold
but then the sunset
call to prayer

the servants
their straw mats unrolled
praying or in the garden

in summer on grass
the children wanting
the prayers to end

the women's foreheads
touching Abraham's
silk stone of sacrifice

black stone descended
from Heaven
the pilgrims in white circling it

this year my grandmother
also a pilgrim
in Mecca she weeps

as the stone is unveiled
she weeps holding on
to the pillars

(for Begum Zafar Ali)
.
.
AGHA SHAHID ALI (1949-2001) was born in New Delhi. He earned a Ph. D. in English from Pennsylvania State University in 1984 and an M.F.A. from the University of Arizona in 1985. His other volumes of poetry include Rooms Are Never Finished (2001), The Country Without a Post Office (1997), The Beloved Witness: Selected Poems (1992), A Nostalgist's Map of America (1991), A Walk Through the Yellow Pages (1987), In Memory of Begum Akhtar and Other Poems (1979), and Bone Sculpture (1972). He is also the author of T.S. Eliot as Editor (1986), translator of The Rebel's Silhouette: Selected Poems by Faiz Ahmed Faiz (1992), and editor of Ravishing Disunities: Real Ghazals in English (Wesleyan, 2000). Ali Received fellowships from The Pennsylvania Council on the Arts, the Bread Loaf Writers' Conference, the Ingram-Merrill Foundation, the New York Foundation for the Arts and the Guggenheim Foundation and was awarded a Pushcart Prize. He held teaching positions at the University of Delhi, Penn State, SUNY Binghamton, Princeton University, University of Massachusetts at Amherst, Hamilton College, Baruch College, University of Utah, and Warren Wilson College.