We are pleased to announce that Kazim Ali's Sky Ward is the 2014 Ohioana Book Award winner in Poetry!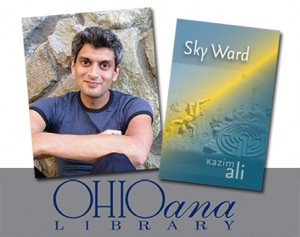 The Ohioana awards have been presented annually since 1942 to talented Ohioans in recognition of their contributions to the literary and cultural life of the state. The awards are among the oldest and most prestigious awards in the country; past winners in Poetry include Mary Oliver, David Young, Rita Dove, and Dave Lucas, among others. The 73rd annual Ohioana Awards ceremony will take place at the Ohio Statehouse in Columbus on Friday, October 10th.
"From the nearly 400 books that were eligible for this year's awards, our judges selected twenty-nine finalists," said David Weaver, executive director of the Ohioana Library. "To make this short list is recognition of excellence. Choosing a winner in each category from such outstanding books was a challenge for the final selection committee."
Kazim Ali is the author of three books of poetry, including the cross-genre Bright Felon: Autobiography and Cities. He is also the author of two novels and two essay collections— Fasting for Ramadan and Orange Alert: Essays on Poetry, Art, and the Architecture of Silence. Ali is a frequent contributor, of essays and poetry, to magazines including American Poetry Review, jubilat, and Boston Review. He is an associate professor of creative writing and comparative literature at Oberlin College and teaches in the low-residency MFA program at the University of Southern Maine. His diverse professional experiences include four years on the liberal arts faculty of The Culinary Institute of America and several years dancing with the Cocoon Theatre Modern Dance Company. Read more about Ali's work here, or visit his website.