.
This week's Throwback Thursday selection is "Clues," from Philip's 1993 book She Tries Her Tongue, Her Silence Softly Breaks (The Women's Press Ltd). Wesleyan University Press will re-issue the book next year, with a new introduction from Evie Shockley, author of the new black.
.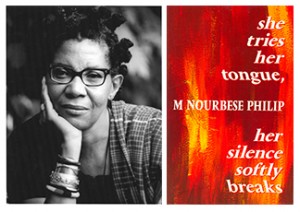 Clues

She gone—gone to where and don't know
looking for me looking for she;
is pinch somebody pinch and tell me,
up where north marry cold I could find she—
Stateside, England, Canada—somewhere about,
"she still looking for you—
try the Black Bottom–Bathurst above Bloor,
Oakwood and Eglinton—even the suburbs them,
but don't look for indigo hair and
skin of lime at Ontario Place,
or even the reggae shops;
stop looking for don't see and can't—
you bind she up tight with hope,
she own and yours knot up in together;
although she tight with nowhere and gone
she going find you, if you keep looking."

Poet, essayist, lawyer, and novelist, M. NourbeSe Philip recently organized a series of participatory readings from Zong!, a masterful work exploring the anguish of some 150 enslaved Africans intentionally drowned at sea on November 29, 1781. These recent readings were participatory and ritual, and can be described as existing somewhere between noise and silence. The most recent event was on August 10th, at Trinity Bellwood Park in Toronto.

.

Click on the poster above for further information on the Zong case, and related events.
In addition, view a reading presented as a Wake for Trevon Martin, from Naropa University here.
.
M. NOURBESE PHILIP is a poet and writer and lawyer who was born in Tobago and now lives in Toronto.