Tomorrow, November 12th, Gerald Vizenor will visit the National World War I Museum in Kansas City, Missouri.  As part of Park University's Ethnic in Voices Poetry Series, in an interview segment that will air on KCUR's New Letters on the Air, host Angela Elam will discuss Vizenor's latest book of poetry, Favor of Crows, as well as Blue Ravens, his fact-based historical portrayal of Native American Soldiers in World War I.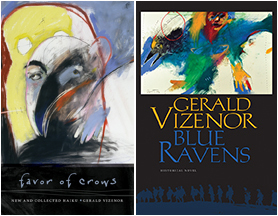 Today, the service of Native Americans in WWII is quite well documented, thanks to the work of many Native community members, scholars, and historians. Service of Natives in WWI has not been as well documented.
In 1917, as the United States entered WWI, most Native Americans were not U.S. citizens. Some Natives were granted citizenship based on their military service. Others were offered citizenship with the passage of the Indian Citizenship Act of 1924. It was enacted, in part, to recognize the service of thousands of Indians in WWI. Citizenship had been offered to Oklahoma Natives in 1890 and 1901.
It is estimated that more than 12,000 American Indians served in World War I. More than 44,000 American Indians served during WWII. Military officials acknowledge that Native Americans have the highest record of service per capita of any ethnic group. Native Americans were sent into highly dangerous situations, such as sweeping for land mines, at a higher rate than their non-Native counterparts. Native Americans were not placed in segregated units, as African-American soldiers were. The U.S. Government hoped that integration would assist the process of assimilating Native Americans into the United States.
To learn more about Native American military service, visit the National Museum of the American Indian's resource page, "Native Words, Native Warriors." You can also view the PBS documentary The Way of the Warrior.