Today' Throwback Thursday selection is an excerpt from Vicente Huidobro's avant-garde classic Altazor. Considered untranslatable until the appearance of Eliot Weinberger's celebrated translation in 1988, Altazor appeared again in Wesleyan's 2004 revised translation with an expanded introduction. In the introduction, Weinberger explains the origins of the work: "Alto, high; azor, hawk. Altazor, a poem in seven cantos, written by a Chilean living in Paris. Begun in 1919 and published in 1931, the poem spans those extraordinary optimistic years between global disasters. An age that thought itself post-apocalyptic: the war to end all wars was fought and over, and now there was a new world to create. A time when the West was, literally and figuratively, electrified; when the mass production of telephones, automobiles, movies, record players, toasters, radios, skyscrapers, airplanes, bridges, cameras, blimps, and subways, matched an aesthetic production obsessed with celebrating the new, and aesthetics that (in Margaret Bourke-White's famous remark) found dynamos more beautiful than pearls."
.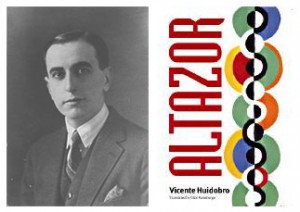 .
The world enters through my eyes
Enters through my hands my feet
Enters through my mouth and goes out through my pores
As celestial insects as clouds of words
Silence the earth will give birth to a tree
My eyes in the grotto of hypnosis
Gnaw on the universe that runs through me like a tunnel
A bird shudder flutters my shoulders
A shudder of inner waves and wings
A ladder of wings and waves in my blood
The cables of my veins snap
And it leaps out from my flesh
Out through the doors of the earth
And past the startled doves

Inhabitant of your fate
Why do you want to abandon your fate?
Why do you want to break the chains of your star
And travel alone through space
Falling across your body from your heights to your depths?

I don't want the bonds of star or wind
Moon bonds are fine for the sea and women
Give me my violins of rebellious vertigo
My freedom of escaped music
There's no danger at the little crossroads of night
No mystery about the soul
 # # #
Interestingly, in the introduction, Weinberger notes a possible connection to Alastor (is Altazor and anagram for Alastor?), "Shelley's long poem of 'a youth of uncorrupted feelings and adventurous genius led forth by an imagination inflamed and purified through familiarity with all that is excellent and majestic, to the contemplation of the universe.' Shelley's Romantic poet-hero, first at peace with the 'infinite and unmeasured,' grows dissatisfied with eternity, and in the end is literally consumed, killed, by desire for the Other he has invented in his total solitude. In contrast, Huidobro's Nietzschean anti-poet/hero abandons his Other (the beloved of Canto II) to reach satori in the pure energy of pure language."
VICENTE HUIDOBRO (1893-1948), a politically engaged Chilean who lived mainly in Europe, was a trilingual poet, painter, war correspondent, founder of newspapers and literary magazines, Hollywood screenwriter, and candidate for president of Chile. ELIOT WEINBERGER's recent books are Karmic Traces, 9/12 and The New Directions Anthology of Classical Chinese Poetry. His edition of Jorge Luis Borges' Selected Non-Fictions received the National Book Critics Circle Award for criticism.