This week's Throwback Thursday post features work from Pierre Joris's 2001 collection, Poasis: Selected Poems 1986-1999. Joris is teaming up with multimedia artist Nicole Peyrafitte for two events sponsored by San Francisco State University's Poetry Center. The first, on March 18th (7PM), will be at City Lights Books and is co-sponsored by City Lights. The second event is on March 19th (4:30PM), at the SFSU Poetry Center, HUM 512. Read more about the events here.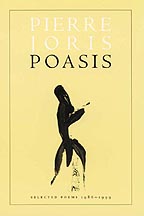 2 Poems for Pens
1.
black & blue
the inks mix
sky at five o'color
a fountain
pen like a big
beaked bird,
childhood
games & smells
2.
I see the pen
poised, the shadow it throws,
the indents in the wooden
underbelly below the nib,
like sharkgills,
the meat eating
metaphor
i.e. writing instrument.