Today's Throwback Thursday selection is an short excerpt from New Time (1999). Celebrating National Poetry Month and Leslie Scalapino, founder of O Books.
.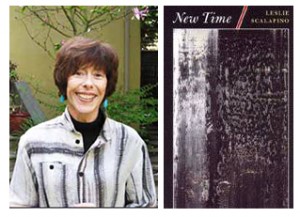 .
      wild gap — of dawn, not it — not so much the particular interpret-
tation (of events) — but as (that) it happens at all
      filled events (catalyzed in one as physical gap tormenting — is it-
self the break that's the dawn, in fact) — break — expanded — that are
going on — red flamed trees, leaves sea is the occurrence outside.
~~~

freezing sky — red slice — one, outside, travelling not existing
even — is not not rebelling — gap itself— as choosing the harshest
conditions — is the dawn
      that is dusk freezing sky — is gap
      grinding negative, as going down that's dusk sky —per se — one's
pushing wildly occurring (in one) events — as gap, (that's dawn)
.
.
LESLIE SCALAPINO (1944-2010) was the author of thirty books of poetry, fiction, plays, and essays, including Day Ocean State of Stars' Night (Green Integer); Zither & Autobiography (Wesleyan University Press); The Tango (Granary Press), a collaboration with artist Marina Adams; Orchid Jetsam (Tuumba); Dahlia's Iris—Secret Autobiography and Fiction (FC2 Publishers); and It's go in/quiet illumined grass/land (The Post-Apollo Press). She also authored the introduction for The Collected Poems of Philip Whalen. She founded O Books and taught writing for nearly 25 years at institutions across the country. Her honors include the 1988 Lawrence Lipton Prize and the 1998 American Book Award from the Before Columbus Foundation.