Interview in Weehawken: The Burr-Hamilton Duel as Told in the Original Documents was published by Wesleyan University Press in 1960. It didn't end well for Hamilton.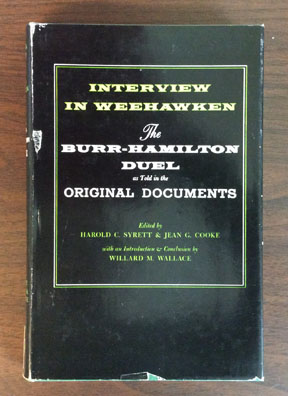 Wesleyan continues to publish books of local history today, and distributes books for The Acorn Club of Connecticut, whose mission is to gather and publish significant primary source materials. Recent books from The Acorn Club include A Connecticut Yankee in Lincoln's Cabinet: Navy Secretary Gideon Welles Chronicles the Civil War, The Peopling of New Connecticut: From the Land of Steady Habits to the Western Reserve, and Original Discontents: Commentaries on the Creation of Connecticut's Constitution of 1818. 
If you are interested in early American history, you will want to check out Homegrown Terror: Benedict Arnold and the Burning of New London. Its author, Eric Lehman, draws upon a variety of perspectives, from the traitor himself to his former comrades like Jonathan Trumbull and Silas Deane, to the murdered Colonel Ledyard, to rethinking Benedict Arnold's destructive acts.