"No child will be considered too sick emotionally, or too disturbed,
or too unmanageable to be deprived of an opportunity to learn." 
—William Glasser, Schools Without Failure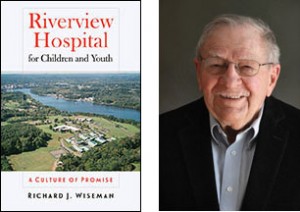 Prior to 1972, visitors to Connecticut state mental hospitals might have noticed a six-year-old chronically depressed girl crouching in the corner of a chaotic cafeteria, or a seven-year-old autistic boy sleeping on a cot next to a seventy-year-old schizophrenic man. Riverview Hospital for Children and Youth tells the story of one of the first milieu based therapeutic hospitals specializing in children's care, located in Middletown, Connecticut. Richard J. Wiseman, its first superintendent, offers his own story and treatment philosophy alongside the voices of the many people who worked tirelessly to free children from an adult mental health facility, and to treat children as children. This important book provides access to decades of experiences, useful tools, and knowledge regarding the treatment of children requiring mental health care. Weaving first-person narrative and interviews with staff, administrators, and patients, Riverview Hospital for Children and Youth testifies to the passion and determination it took to spring children from an adult mental health ward and bring them into a place of their own. A companion ebook comprising three original staff manuals is also available.
RICHARD J. WISEMAN is one of the pioneers of modern mental health treatment for children, and was the first in Connecticut to argue that autism was a developmental, not a psychiatric, disorder. His work was an important factor in the State of Connecticut's decision to shift childcare, for children with autism, to the newly named Department of Developmental Disabilities. Wiseman lives in Cromwell, Connecticut.
Also newly available: Riverview Hospital Staff Manuals
These archival materials provide detail that illuminates the treatment philosophy and methods employed by the Riverview staff during the hospital's formative years. Materials includes the ABCD Program, BLEU Handbook, and Sunburst Handbook.
"Riverview Hospital offers readers an inside view of this leading psychiatric hospital for children. As someone with four decades of experience in the private sector, I gained a fresh perspective on how complex and political the public sector is, and new respect for the challenges faced. An excellent resource for students as well as anyone with an interest in the history of children's services."
              —David Tompkins, vice president of program services, Klingberg Family Centers
"A fascinating and profound look at the early development of a 'continuum of care' model for children's mental health. Dick Wiseman provides an engaging voice for the staff, administrators, and officials working with the children at Riverview. His understanding and quest for a healthy therapeutic milieu is captured nicely for us through his insight that 'challenges lead to growth, and growth leads to higher developmental levels, which leads to change.' The stories and documentation are recommended learning opportunities for students and professionals in the field of children's services. I so enjoyed the journey."
              —Gregory Horne, professor emeritus of Psychology and Human Services,
                 Middlesex Community College
Riverview Hospital for Children & Youth
304 pp., 8-1/2 x 11"
$29.95 Jacketed Cloth, 978-0-8195-7589-0
$23.99 Ebook, 978-0-8195-7590-6
Publication Date: November 10, 2015
Riverview Staff Manuals
eBook only, $3.99 Y
978-0-8195-7598-2
Publication Date: November 10, 2015
The Driftless Connecticut Series is funded by
the Beatrice Fox Auerbach Foundation Fund
at the Hartford Foundation for Public Giving