New edition
The groundbreaking seminal collection by the author of Zong!
Brilliant, lyrical, and passionate, this collection from the acclaimed poet M. NourbeSe Philip is an extended jazz riff running along the themes of language, racism, colonialism, and exile. In this groundbreaking collection, Philip defiantly challenges and resoundingly overthrows the silencing of black women through appropriation of language, offering no less than superb poetry resonant with beauty and strength. She Tries Her Tongue, Her Silence Softly Breaks was originally published in 1989 and won the Casa de Las Americas Prize. This new Wesleyan edition includes a foreword by Evie Shockley. An online reader's companion is available at http://nourbesephilip.site.wesleyan.edu.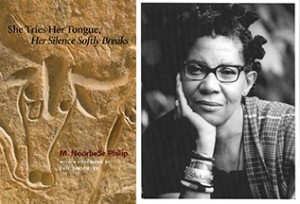 NOURBESE PHILLIP is a poet, essayist, novelist, and playwright who was born in Tobago, in the twin island state of Trinidad and Tobago, and now lives in Toronto. She is the author of four books of poetry, including Zong!, a novel, and three collections of essays. EVIE SHOCKLEY is an associate professor of English at Rutgers University, and author of the new black, winner of the Black Caucus of American Library Association's Literary Award for Poetry.
"Philip's tragic transport—as a curate of the impure word, the degeneration and regeneration of grammar—bears the black history of romance. No sojourn in contemporary poetry is more necessary or more beautiful than hers."

—Fred Moten, author of The Feel Trio

"Since the original publication of She Tries Her Tongue, the critical community has been catching up with NourbeSe Philip's seismic poetic voice and her radical philological project—continued in Looking for Livingstone: An Odyssey of Silence and Zong! This collection should be required reading for all students of Caribbean art and literature."

—Emily Greenwood, author of Afro-Greeks: Dialogues between Anglophone Caribbean Literature and Classics in the Twentieth Century

 "She Tries Her Tongue richly touches upon the difficult intertwining of race, gender, sexuality, history, and language. No other work brings these concerns so centrally to readers."

—Samantha Pinto, author of Difficult Diasporas: The Transnational Feminist Aesthetic of the Black Atlantic
"She Tries Her Tongue; Her Silence Softly Breaks"
            All Things are alter'd, nothing is destroyed
            Ovid, The Metamorphoses (tr. Dryden).
the me and mine of parents
the we and us of brother and sister
the tribe of belongings small and separate,
when gone. . .
on these exact places of exacted grief
i placed mint-fresh grief coins
sealed the eyes with certain and final;
in such an equation of loss tears became
a quantity of minus.
with the fate of a slingshot stone
loosed from the catapult pronged double with history
and time on a trajectory of hurl and fling
to a state active with without and unknown
i came upon a future biblical with anticipation
August
100 pp., 6 x 9" or 5-1/2 x 8-1/2"
Paper, $15.95
978-0-8195-7567-8
eBook, $12.99 Y
978-0-8195-7568-5