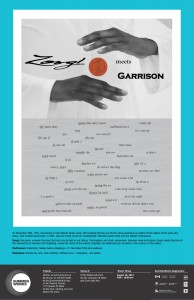 On November 29th, 1781, somewhere between the coast of West Africa and the island of Jamaica, some 150 enslaved Africans were thrown into the Atlantic Ocean on orders of the captain of the ship Zong. The book length poem, Zong! by M. NourbeSe Philip, was written entirely from the words of the legal decision regarding this massacre. This legal document is the only extant public document related to the massacre. Participatory and ritual, Zong! is an interplay between noise and silence. It performs, even as it seemingly unperforms, ideas of history and memory.
On November 29th, 2013, those who lost their lives aboard Zong were remembered with readings in Toronto, Brazil, Tobago, Trinidad, Blomfontein, and in New York at Unnameable books. Participants were invited to the sacred a space where ancestral voices join with voices of the living. The exchange was facilitated through spoken word, music, video, movement and improvisation, creating a polyvocal, counterpointed soundscape. View a video of one of the events here.
You can catch M. NourbeSe Philip at Wesleyan's Memorial Chapel this evening, where she will be joined Wesleyan's own Gina Athena Ulysse for an evening of poetry-based performances.
Related books:
Making Freedom: The Extraordinary Life of Venture Smith