Today's Throwback Thursday selection is "Desire," from Joy Harjo's Mad Love and War (1990). The collection won the William Carlos Williams Award from the Poetry Society of America in 1991, and Harjo was the 1990 recipient of the Before Columbus American Book Award.
.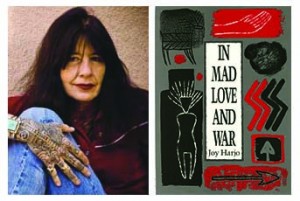 .
Desire

Say I chew desire and water is an explosion
of sugar wings in my mouth.

Say it tastes of you.

Say I could drown because you left
for the time it takes a blackbird to understand
a pine tree.

Say we enter the pine woods at dawn.

We never slept and the only opium we smoked
was what became of our mingled breath.

Say the stars have never learned
to say good-bye. (One is a jewel
of blue magic in your perfect ear.)

Say all of this is true and more

than there are blackbirds
in a heaven of blackbirds.
.
.
JOY HARJO is a multitalented artist of the Mvskoke/Creek Nation. She is an internationally known poet, performer, writer, and musician. She is the author of many acclaimed books, including Soul Talk, Song Language, She Had Some Horses, In Mad Love and War, The Woman Who Fell from the Sky, How We Became Human: New and Selected Poems, and a memoir, Crazy Brave. She has produced five award-winning albums of music and poetry, including Letter from the End of the Twentieth Century, Winding through the Milky Way, and Red Dreams: A Trail Beyond Tears. Her newest book of poetry is Conflict Resolution for Holy Beings.