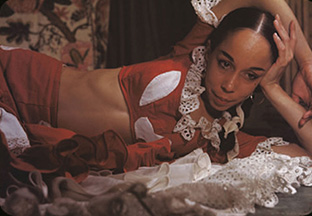 PRESS RELEASE
IMMEDIATE RELEASE
Janet Collins Film Project Options Her Biography
As CRC Productions moves forward on its film project about Janet Collins, the Metropolitan Opera's First Black Prima Ballerina (1951), they are pleased to announce their option of her biography, "Night's Dancer" by Yael Tamar Lewin, published by Wesleyan University Press, adding layers of depth about the life of this extraordinary and elusive woman, who became a unique concert dance soloist as well as a black trailblazer in the white world of classical ballet.
Just as Jackie Robinson broke the color barriers of baseball, Janet Collins broke the toughest barrier in the all-white world of classical ballet.
Janet Collins, America's First Black Prima Ballerina, was a complex artist who challenged the status quo while confronting the barriers raised by both racism and sexism. Her story is one of triumph, but not without uncertainty, struggle and loss. She struggled through decades of segregation and prejudice to realize her youthful dream of becoming a professional dancer and ballerina. Refusing to let race define her, she gained world-wide recognition as a multi-faceted woman, a fine artist, designer and dancer.
CRC Productions's  proposed feature length film is a dramatic retelling of Collins' story—exploring what life was like for educated, but poor, blacks seeking intellectual and artistic fulfillment in an openly hostile environment. The film will highlight many of Collins' challenges, including her struggle with depression and the aftermath of her forced sterilization—a tragically common violation faced by young women of color in the United States.
CRC is fortunate to be able to tell Janet's compelling story through the eyes of two amazing women who shared their own early years as performers with Collins. Many will recognize their names, but few know of the intertwining of their lives as they all made their marks on stage and screen.
*  Carmen DeLavallade, recently on Broadway in "Streetcar Named Desire," is a dancer, choreographer, professor, actress of stage and film, and was first inspired to dance by her cousin, Janet Collins. She is still a graceful performer, continuing to tour the country with her one woman show, "As I Remember It."
*  Roberta Haynes, played starring roles with Gary Cooper, Rock Hudson, among others, and later moved to production and development, becoming VP of Movies and Mini-Series at 20th Century Fox. She and Janet began a life long friendship in the '40s, meeting in a small shared dance studio in Hollywood.
Over the decades, DeLavallade, Haynes and Collins shared their struggles and supported one another as they strove to make their artistic dreams realities. These three buoyed each other in the face of obstacles that women of color endured before civil rights reforms—facing the brunt of both racism and sexism.
Today's acceptance of African American ballerinas like Misty Copeland , Olivia Boisson, and Jasmine Perry to dance in top ballet companies were made possible by Janet Collin's opening the door to them over 50 years ago.
Today, Janet Collin's life continues to influence and drive other creative projects. Actress Karyn Parson's Sweet Blackberry, is a non-profit organization whose mission is to bring little-known stories of African-American achievement to kids. Their award-winning, animated short films about individuals overcoming great obstacles are empowering and inspiring. Their latest film, "Dancing In The Light: The Janet Collins Story" features well known producer Debbie Allen, the Debbie Allen Dance Academy, and the narration of actor/comedian Chris Rock.
CRC Productions looks forward to bringing the full story to the big screen of the dramatic and inspiring life of Janet Collins, the first American Black Prima ballerina.
For more information on the project contact Jenny Callicott of CRC productions, jenny@makeitso.biz or (213) 268 0700.
For information on "Night's Dancer" contact Wesleyan University Press, selliott@wesleyan.edu or (860) 685 7723.
# # #