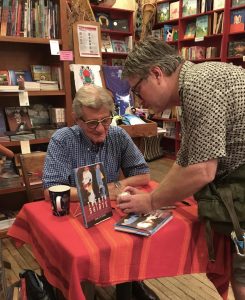 Gerald Vizenor was recently welcomed by Birchbark Books for a reading from his new book Treaty Shirts: October 2034—A Familiar Treatise on the White Earth Nation. The event was held at the Bockley Gallery in Minneapolis.
In this masterful, candid, surreal, and satirical allegory set in an imagined future, seven natives are exiled from federal sectors that have replaced the federal reservation system. Banished because of their dedication to a democratic ethos, they declare a new, egalitarian nation on an island in Lake of the Woods—a lake bordering Ontario and Minnesota.
In a recent interview with Minneapolis Public Radio, Vizenor stated he "hopes his novel will inspire critical thinking about the White Earth Constitution." Listen to Vizenor's comments and his short reading from Treaty Shirts here.
GERALD VIZENOR is Professor Emeritus of American Studies at the University of California, Berkeley. His novels Shrouds of White Earth and Griever: An American Monkey King in China both won the American Book Award; Griever also received the New York Fiction Collective Award. He is currently writing his sequel to Blue Ravens, an engrossing historical portrayal of Native American soldiers in World War I.
Vizenor's novel Blue Ravens and Favor of Crows: New and Selected Haiku are available in paperback now!
Visit our Gerald Vizenor's companion website.
Photographs from the event, courtesy of Laura Hall.