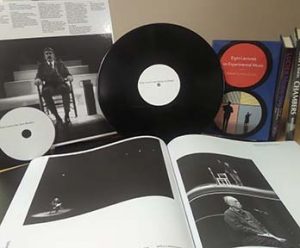 A celebration of the life and work of experimental American music composer, Alvin Lucier, the ISSUE Project Room is partnering with Zürcher Hochschule der Kunste(ZHDK), November 8-9, 2017 to recreate ZHDK's October 2016 three-day festival of music composition, theory, musicology, sound studies, aesthetics, critical theory, and art history. Although compressed to two days instead of the original three, ISSUE's New York staging of the festival is the first of its kind, bridging Germany's experimental music culture and American musicology. Some of the invited musical guests include Joan LaBarbara, Charles Curtis, Stephane O'Malley, Oren Ambarchi, Gary Schmalzl, and the Ever Present Orchestra. The series also will include the publication of an exclusive German-curated box set of documents from the original October 2016 festival, including four LPs, a CD, essays, interviews, scientific articles, archival photos, and music compositions. Lucier is to host a signing of the box set after the concert each night.
Alvin Lucier is an American composer of experimental music. Internationally known for his experimentation in electronic music and sound aesthetic, Lucier was awarded the Lifetime Achievement Award by the Society for Electro-Acoustic Music in 2006 and has been invited to numerous festivals and residencies in Germany, Czech Republic, Spain, United Kingdom, and the United States. His most recent book, Eight Lectures on Experimental Music, is an influential collection of lectures, featuring influential composers, Maryanne Amacher, Robert Ashley, Philip Glass, and more, to tell the story of twentieth-century American experimental music. Lucier is also the author of Music 109: Notes on Experimental Music and co-author, with Douglas Simon, of Chambers: Scores and Interviews.
Information for buying tickets to the ISSUE Project Room series can be found here and here, featuring a schedule of performances for each night.