We celebrated the 100th anniversary of Armistice Day this past weekend. This was the 100th anniversary of the end of the Great War that would later become known as World War I. In Gerald Vizenor's Blue Ravens, readers were introduced to Basile and Aloysius Hudon Beaulieu, Anishinaabe brothers from White Earth Reservation who joined the army and fought in some of the bloodiest battles of the Great War. Native Tributes, published this fall, is his follow up to Blue Ravens, situating the Beaulieu brothers in the Bonus Army protests of 1932 .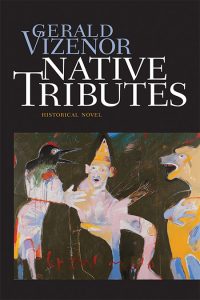 The brothers travel from the White Earth Reservation, MN, to Washington, DC, to protest with the Bonus Army–a group comprised of thousands of military veterans demanding the bonus pay they'd been promised for WWI service.
General Douglas MacArthur brutally forces the veterans from the National Mall, and the Beaulieu brothers move to an encampment of needy veterans in "Hard Luck Town" on New York City's East River. They meet other veterans who refuse to be defeated by the sorrow of the times.
In New York City, the brothers also visit the Biblo and Tanner Booksellers, a gallery owned by Alfred Stieglitz, the Modicut Puppet Theatre, and an exhibition at the Museum of Modern Art. Aloysius, the painter of Blue Ravens, finds inspiration in the Modernist work of Arthur Dove, Chaïm Soutine, Marc Chagall, and others.
Native Tributes is a journey of liberty that escapes the enticement of nostalgia and victimry, and reveals life in its barest form. In addition to reminding us of the US government's obligation to native nations, the novel also reminds us that there is always work to be done, to support our veterans, after they return from battle.