The excitement surrounding Judson Dance Theater: The Work is Never Done (a MoMA exhibit running through Feb. 3, 2019) brings to mind some phenomenal Wesleyan books—new and old—that feature artists who are in the exhibit.
Trisha Brown, one of the founders of the Judson Theater, was an American choreographer and dancer who helped birth the postmodern dance movement. Brown, amongst other artists, challenged traditional understandings of choreography by employing new compositional methods that stripped dance of its theatrical conventions and instead implemented everyday gestures from domestic and urban spaces. Brown has created over one hundred dances, six operas, one ballet, and a significant body of graphic works.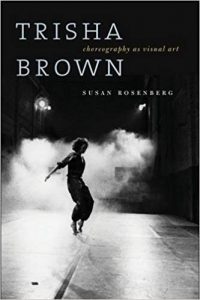 In Trisha Brown: Choreography as Visual Art, art historian Susan Rosenberg emphasizes how boundary-defying Brown's work really was through personalized interviews with Brown and colleagues whom she has eternally inspired. By outlining the formation of Brown's artistic principles and utilizing her archives, Rosenberg eloquently demonstrates why the late choreographer was the first woman choreographer to receive the MacArthur Foundation Fellowship "Genius Award".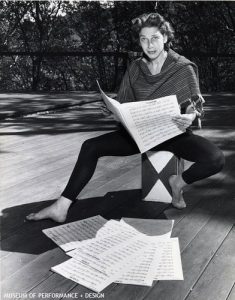 Anna Halprin is a legendary pioneer for postmodern dance as well. She taught and led workshops and classes at the Judson Dance Theater. In fact, Trisha Brown was one of her students. In her forthcoming book Making Dances that Matter: Resources for Community Creativity, Halprin demonstrates how dance can be a powerful tool for healing, learning, and mobilizing change.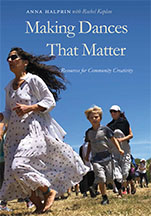 She gives insight into her personal philosophy and past experiences as well as step-by-step processes to create unifying dances such as the "The Planetary Dance" and "Circle the Earth." These two dances continue to be performed around the world.
Deborah Hay is a dancer, choreographer, writer, and teacher working in the field of postmodern dance and one of the founding members of the Judson Dance Theater. Her work focuses on large-scale dance projects involving untrained dancers, fragmented and choreographed music accompaniment, and the execution of ordinary movement patterns performed under stressful conditions. She is the artistic director of the Deborah Hay Dance Company, based in Austin, Texas.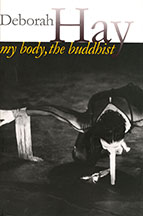 My Body, The Buddhist is a guide into Hay's choreographic techniques, a gloss on her philosophy of the body (which shares much with Buddhism), and an extraordinary artist's primer. The book is composed of nineteen short chapters each an example of what Susan Foster calls Hay's "daily attentiveness to the body's articulateness."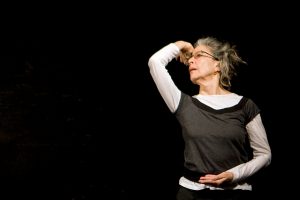 We are pleased to announce that Wesleyan is re-issuing Using the Sky, A Dance, by Deborah Hay, in fall 2019.
Sally Banes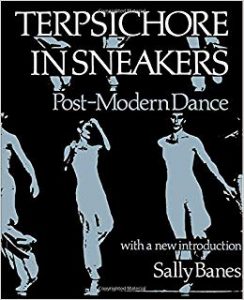 Sally Banes is a remarkable dance critic, historian, and writer. Drawing on the postmodern perspective and concerns that informed her groundbreaking Terpsichore in Sneakers, Sally Bane's Writing Dancing documents the background and development of avant-garde and popular dance, analyzing individual artists, performances, and entire dance movements.
John Cage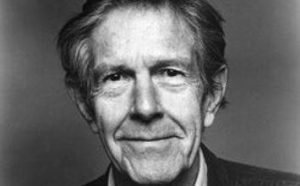 John Milton Cage Jr. was an American composer and music theorist. He became notorious for indeterminacy in music and non-standard use of musical instruments as well as for being one of the leading figures during the post-war avant-garde.
Silence, by John Cage
Selected Letters of John Cage, edited by Laura Kuhn
John Cage Was, photographs of James Klosty
with comments by a variety of artists and performers.
Wesleyan has published a variety of books by Cage.