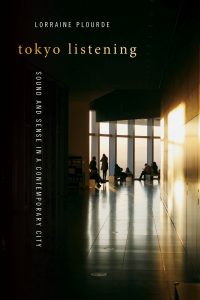 "This is an excellent, much-needed study of the 'gentle, ubiquitous, cacophonous' soundscapes of Tokyo. Plourde combines descriptions of Tokyo's sites of listening—experimental-music venue, classical-music café, department store, office—with insightful analyses to link seemingly disparate listening cultures in compelling and unexpected ways."—David Grubbs, author of Records Ruin the Landscape: John Cage, theSixties, and Sound Recording
Tokyo Listening examines how the sensory experience of the city informs how people listen to the ubiquitous, everyday sounds of city life. Drawing on recent scholarship in sound studies, anthropology, and ethnomusicology, and combined with more than fifteen years of ethnographic fieldwork in Japan, Lorraine Plourde traces the links between urban space and sound experience by examining "listening cultures." These listening cultures include an experimental music venue, classical music cafés, office workspaces, and department stores.
Tokyo Listening examines the sensory experience of urban listening as a planned and multifaceted dimension of everyday city life, ultimately exploring the relationship between sound, comfort, happiness, and productivity.
Lorraine Plourde is associate professor of media studies and anthropology at Purchase College, State University of New York. Her research has been funded by the Social Science ResearchCouncil (SSRC), Fulbright-Hays, and the Northeast Asia Council for the Association for Asian Studies.