HUMAN SIGNS is a series of audiovisual ensembles created in response to the COVID-19 pandemic.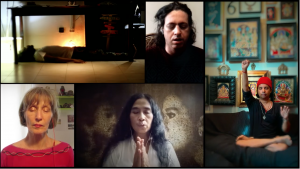 Its creator, Yuval Avital, describes its premise:
"HUMAN SIGNS unites great protagonists of the contemporary dance and Ballet scene, vocal soloists from all around the globe, including carriers of ancient traditions, contemporary and experimental pioneers, religious representatives from every faith. All united in a participatory art project that from Milan connects the entire world to share – at the times of COVID-19 – the HUMAN SIGNS, presented online through a series of weekly audiovisual creations (every Tuesday at this link)–each one introduced by a different curator–interpreting the viral aesthetic as a multimedia choir of vulnerability, spirituality, inner strength, hopes and fears."
HUMAN SIGNS' 7th edition ensemble includes Wesleyan author and professor Hari Krishnan. His dialogue/vignette is from 40:26- 52:20.
Read Dr. Krishnan's statement on his work, "Life on Pause–A Meditation".

"Being part of this artistic response to the Covid-19 pandemic, was a truly evocative, moving, revealing journey for me. I had to sit, still, in my dark bedroom, retreat within myself, and distill the restless, helpless despair my physical self and soul embodied in this fractured, tumultuous time. After two weeks of introspection, in the friendly company of the Cantus Firmus mantra and the sunrise as a healing balm, I let my mind, body and heart express my inner world through this 'dance'. Drawing from my rich Indian dance ethos, I carefully abstracted from the structure of mezzuvani–a seated salon solo dance style where the dancer performs with mudras (hand gestures) and abhinaya (facial expressions).
"As I choreographed, using Covid-19 as the premise, current political events collided with my (already) altered realties, i.e. the police killing of George Floyd and the Black Lives Matter (BLM) movement protests in the U.S. In homage, I empathized with my marginalized friends, by referencing BLM's symbol of resistance–the raised clenched fist–in the beginning of my solo to join in solidarity with them.
"Reflecting the context of isolation and depletion in my current life, I radically edited all the staples I take for granted as an Indian dancer–the complex footwork, layered multiple mudras, theatrical abhinaya, elaborate costumes, jewelry, make-up, etc. Hence my minimalist iteration. As a metaphor for the quarantine, I "locked-down" my dancing legs by immobilizing them in the Padmasana (yogic lotus seated) position. While my left hand 'stops' loneliness, angst, dissonance, sorrow, hurt and fear at the outer prakaram (perimeter), my right hand's index finger, quantifying a singular prayer, invites the healing sun into my darkened soul to bathe it in light and cleanse it with warmth. My centered, gently undulating torso, and circling hands welcome the spirit of a Higher Power to take residence in and transform the 'chaotic beauty' within my soul garbha griha (sanctum sanctorum) into Ananda (Bliss)…."
Hari Krishnan Krishnan is an internationally respected and award-winning choreographer, professional Bharatanātyam dancer, educator, and writer. His research interests span a range of topics, including queer subjectivities in South Asian and global dance performance, colonialism, post-colonialism and Indian dance, and the history of devadasi (courtesan) dance traditions in South India. Krishnan is also the artistic director of Toronto-based dance company inDANCE. As an award winning dance maker, he is commissioned internationally for his bold and transgressive choreography. Also an associate professor of dance at Wesleyan University, he is the author of Celluloid Classicism: Early Tamil Cinema and the Making of Modern Bharatanatyam (Wesleyan University Press) and is currently co-editing a forthcoming volume entitled Dance and the Early South Indian Cinema (Oxford University Press).