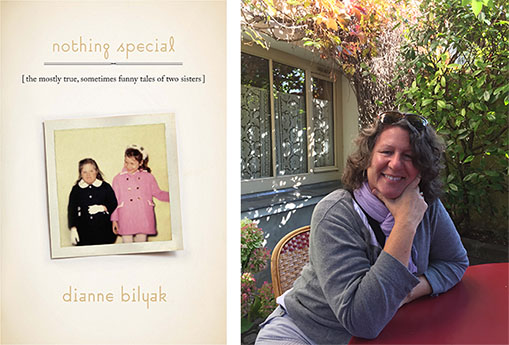 Introducing Nothing Special: The Mostly True, Sometimes Funny Tale of Two Sisters
"As sister to Chris, a sassy, gender-fluid, rule-bending extrovert with Down syndrome, Dianne Bilyak—a thoughtful, shy, occasional rebel drawn to the page and the stage—spent her life experiencing a vast array of emotions, from loyalty and admiration to feeling lost in the shadows and bereft of identity. In Nothing Special, her highly readable, cliche-free memoir, Dianne shares her fifty-year journey of siblinghood and self-discovery. Rich in character, humor, hard-earned insights, and love, Dianne's story will surprise the uninitiated, be revelatory to parents, and, for those who also walk in her shoes, resemble a friend whose words shine with truth."
—Rachel Simon, author of Riding the Bus with My Sister
Dianne Bilyak's Nothing Special: The Mostly True, Sometimes Funny Tale of Two Sisters chronicles two sisters' struggles to find connection and independence. Chris, the older sibling who was diagnosed with Down syndrome, is an extroverted and confident pleasure-seeker with a knack for getting—and being—what she wants.
Nothing Special is a revaluation of cultural perceptions of Down syndrome and a realistic portrayal of gritty humor in the face of adversity. Bilyak's honesty is breathtaking, with anecdotes ranging from poignant to laugh-out-loud funny. Highly amusing, thoughtful, heartwarming, and real, the soft heart and hard edge of Nothing Special packs a punch that will not soon be forgotten.
from the book:
When I brought Chris back to her apartment from her birthday outing, I checked her log. The staff keeps one for every resident, tracking each person's actions so the behaviorist could compile a future report. It usually struck me as a cold document, treating Chris like a generator of data instead of a human. But I noticed that now, it looked more like a homework assignment, with corrections in my sister's handwriting.
She'd crossed out the word "good" and changed it to "great," crossed out "great" and changed it to "terrific." Where a staff member had recorded that Chris had stolen something, she blackened the word "stole" right out. Another entry said Chris had antagonized a co-worker. Chris wrote, "I am very sorry" in the margins, but only after interchanging their names to make it look like the other person was the culprit.
Watch a video of Dianne and her sister, Chris, in conversation on an episode of the popular YouTube channel, "The Skin Deep."
DIANNE BILYAK (Stafford, CT) is a Pushcart-prize nominated writer, graduate of the Yale Divinity School, and Connecticut disability rights advocate. Her book of poems Against the Turning was published by Amherst Writers & Artists Press in 2011, and her poetry has also been featured in Meat for Tea, Freshwater, Drunken Boat, The Massachusetts Review, and The Tampa Review. Visit the author website here.
This book is a 2020 selection in the Driftless Connecticut Series, for an outstanding book in any field on a Connecticut topic or written by a Connecticut author.