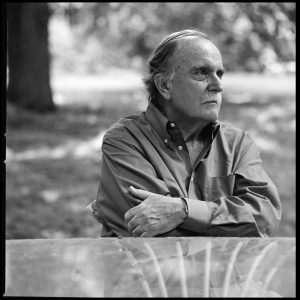 On Wednesday, May 13 at 8PM ET ISSUE is celebrating American composer Alvin Lucier's 90th birthday! This stream will span 30 hours and feature 90 artists. Join "I Am Sitting in a Room: Alvin Lucier's 90th Birthday Celebration here. 
Alvin Lucier is highly respected within the field of music for his innovative and creative ideas. As composer Steven Reich has noted, "Lucier's work in live and taped electronic music has produced beautiful and influential results. I particularly admire 'I am Sitting in a Room' as a moving, personal taped speech piece, and 'Music for Solo Performer' as the first work with brain wave generated sounds."
Lucier's written and edited works includes three books published by Wesleyan University Press. Chambers: Scores by Alvin Lucier is a collection of his major works from 1965 to 1977, accompanied by interviews conducted by Douglas Simon. This book showcases the variety of sounds that Lucier uses in his compositions, pioneering the nature of music itself.
Music 109: Notes on Experimental Music offers insights into listening to "experimental" music. Designed as an introduction for all readers it is a popular course book, named for Lucier's Music 109 course at Wesleyan University. It also a great book for any music lover looking to expand their listening horizons. Daniel Barbiaro of Avant Music News says, "Plain and direct-spoken and with an uncluttered prose style, Lucier easily blends analysis, anecdote and digression into a reader-friendly first-person account of some of the most interesting music to come out of the postwar period." And in his review for Los Angeles Review of Books, David Mandl noted that "[f]or those already acquainted with this music, Lucier's descriptions of how it came to be reveal details of discovery and development that a non-insider could never know."
Eight Lectures on Experimental Music presents eight notable lectures presented at Wesleyan University between 1989 and 2002. Lecturers include Maryanne Amacher, Robert Ashley, Philip Glass, Meredith Monk, Steve Reich, James Tenney, Christian Wolff, and La Monte Young. The transcriptions in the book make these events accessible to a new generation of scholars. Tim Page, professor of music and journalism at the University of Southern California has high praise for Lucier's work: "The composer Alvin Lucier makes inventive and absorbing music from anything he touches, whether a traditional instrument or an everyday sound whose qualities are rendered brand new. This important book brings Lucier together in discussion with several remarkable colleagues, permitting the reader a fresh understanding of the varied and chimerical musical languages that surround us."