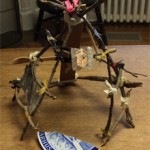 The work of choreographer Jill Sigman exists at the intersection of dance, theater, and visual installation. Described as an artist of "prodigious imagination and intelligence" by The New York Times, Sigman transforms simple actions like walking on eggshells, sliding down the stairs, and eating hot pink roses into complex statements about self, society, and human experience.
Wesleyan University Press will publish Sigman's Ten Huts in Spring 2017. The Hut Project, a series of installations made from debris and found objects, will be documented in the book.
Photographed here is a miniature hut created by Signman on Monday, September 28th, using found objects at Wesleyan University Press.