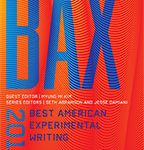 An anthology of dynamic, forward-thinking writing
"Whenever a newspaper succumbs to the clickbait of fake news; whenever a search engine becomes a surrealist troubadour by chance; whenever a witless chat-bot strives to rickroll you—these experimental writers ensure that you show up for the future of literature on time."
—Christian Bok, author of The Xenotext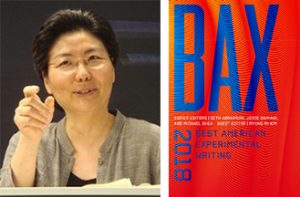 Best American Experimental Writing 2018, guest-edited by Myung Mi Kim, is the fifth edition of the critically acclaimed anthology series compiling an exciting
 mix of fiction, poetry, nonfiction, and genre-defying work. Featuring a diverse roster of writers and artists culled from both established authors—like Mei-mei Berssenbrugge, Don Mee Choi, Mónica de la Torre, Layli Long Soldier, and Simone White—as well as new and unexpected voices, including Clickhole.com, BAX 2018 presents an expansive view of today's experimental and high-energy writing practices. A perfect gift for discerning readers as well as an important classroom tool, Best American Experimental Writing 2018 is a vital addition to the American literary landscape.
Myung Mi Kim is the author of Under Flag, The Bounty, DURA, Commons, River Antes, and Penury and is the James H. McNulty Chair of English at SUNY Buffalo.
Seth Abramson is the author of six poetry collections and is an assistant professor of Communication Arts and Sciences at the University of New Hampshire.
Jesse Damiani is a former Wisconsin Institute for Creative Writing fellow and current Editor-at-Large of VRScout.
August
360 pp., 29 illus., 6 x 9"
Paper, $19.95
978-0-8195-7818-1
Unjacketed cloth, $40.00
978-0-8195-7817-4
Ebook, $15.99
978-0-8195-7819-8