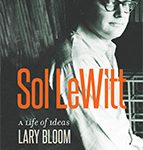 Wesleyan University Press is pleased to announce that Sol LeWitt: A Life of Ideas by Lary Bloom has been named a finalist for the Connecticut Book Award in the nonfiction category. Check out Sol LeWitt: A Life of Ideas by Lary Bloom, available from HFSbooks.com.
In spring of 2019, Wesleyan University Press published the first ever LeWitt biography entitled Sol LeWitt: A Life of Ideas by Lary Bloom. Bloom's biography of LeWitt draws on personal recollections of LeWitt, whom he knew in the last years of the artist's life, as well as LeWitt's letters and papers and over one hundred original interviews with his friends and colleagues, including Chuck Close, Ingrid Sischy, Philip Glass, Adrian Piper, Jan Dibbets, and Carl Andre. The absorbing chronicle brings new information to our understanding of this important artist, linking the extraordinary arc of his life to his iconic work. Plus, it includes 28 beautiful illustrations of the artist's work. Pick up this title to read more about Sol LWwitt and his "ideas."
Massachusetts Museum of Contemporary Art (commonly known as Mass MoCA) draws visitors both near and far to the city of North Adams in the Berkshire Hills. A mill town for much of its history, North Adams stands out for its industrial brick architecture all along the small but mighty Hoosic River. Mass MoCA's campus finds its home in one of these old mill buildings—collections, exhibits, offices, event venues, and commercially rented space now occupy the converted Arnold Print Works factory building complex. The Sprague Electric Company occupied the building most recently, prior to Mass MoCA's arrival.
Mass MoCA's industrial roots shine during any visit. The space is immense and allows for large works—particularly sculpture and installation pieces—to be viewed in their incredible totality. Light shines from floor to ceiling windows that line all external walls. Bridges and ramps bring separate buildings together in a maze of levels. Situated in one of these buildings, occupying three floors, we find "Sol LeWitt: A Wall Drawing Retrospective." The bright colors, precise lines and angles, and massive scale that define Sol LeWitt's most famous pieces suit the space perfectly. See the pictures included at the end of this post for a look at some of the works featured in the exhibit!
Sol LeWitt came to fame in the 1960s for his wall drawings and structures, though he was accomplished with many other artistic forms too (including drawing, printmaking, photography, and artist's books). While Mass MoCA's LeWitt exhibit is focused mainly on wall drawings, it is organized chronologically, so if you work your way up from the first floor to the third, you will see how his work developed throughout his career. From subtle pencil drawings to complex colored illustrations, Sol LeWitt's wall drawings offer a great scope of the artist's influence, theory, and practice. LeWitt is regarded as a founder of both Minimal and Conceptual art. His work is defined by three-dimensional qualities whether those are physical or representative. From his "structure" sculptures made from wood, metal, and cinder blocks, to his wall drawings of graphite, crayon, colored pencil, India ink, or and/or acrylic paint, LeWitt's artwork masters the strategic, systematic organization of lines and shapes.
According to LeWitt's artistic and conceptual principles, his wall drawings were not usually assembled by the artist personally. LeWitt sold the instructions and the rights to individual works, allowing for distinct teams to interpret and execute his plans. In 1971 LeWitt explained that "each person draws a line differently and each person understands words differently"– his certificates of authenticity, along with his instructions (which vary in length, specificity, and use of text and design), LeWitt believed that art can have both a conceptual creator and  a collective, experiential maker. His wall drawings are constructed on site and can be taken down, moved, or re-constructed at any time; in this way, LeWitt incorporates a transient dynamic directly into the physical forms taken on by his art.