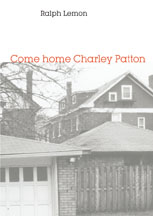 Ralph Lemon's Come home Charley Patton was reviewed by Judith Ingber, for the Dance Critics Association newsletter. Ingber recommends "this most rewarding and unorthodox book."
We thank Dance Critics Association [www.dancecritics.org] for allowing us to post this review.
From the review essay:
"If you like dance diaries in print you'll especially love Ralph Lemon's latest book Come home Charley Patton (2013). Years ago I was thrilled to delve into Martha Graham's diary The Notebooks of Martha Graham when it was published (NY: Harcourt Brace Jovanovich, 1973) and likewise, later, with Merce Cunningham's Changes: Notes on Choreography (NY: Something Else Press, 1968). I assume a dancer's diary will be snatches of this and that, providing illuminations both visual and articulate about the choreographer's process and works. That's true only in part for Ralph's new book. Note I'll call him Ralph in the following comments–how could I call him Lemon when he grew up in Minneapolis like I did (though admittedly some years later)? I remember him dancing in the Nancy Hauser Dance Company and then seeing his works for the New Dance Ensemble including "Boundary Water" (1984), "Waiting for Carnival" (1986) and a wonderful solo for dancer Luc Ball?
Ralph's book is much more than diary entries about his dances—here we get historical context for his stories, images he has photographed and his own sketches (some in black and white and others in color). It's published by Wesleyan University Press, the famous dance press, and someone there loves him because they've also published his previous books (Persephone, his 1996 dance ode to spring which is a small book collaboration with photographer Philip Trager; Geography: art/race/exile, published in 2000; and Tree in 2004). Until one reads this latest book, his role as choreographer/dancer seemed most important. But here one sees his many facets—story teller, researcher, painter, and photographer.
For me, Martin Luther King Day each year calls up a spring day in 1968, walking up New York City's Broadway near Columbia University, with radio news blaring onto the street from countless shops and cars that King had been shot. This year the inauguration of Barak Hussein Obama as America's 57th president fell on Martin Luther King Day. I spent the day reading Ralph's book with time out for watching the televised inauguration ceremonies. In a way, it struck me that his book is an ode to Martin Luther King, for Ralph interweaves the Civil Rights Movement with his own and his family stories."