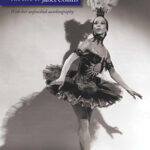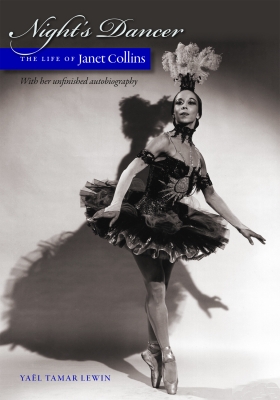 September 13, 2021, marks the 10th anniversary of the publication of Night's Dancer: The Life of Janet Collins, by dance scholar Yaël Tamar Lewin, referred to as a "must-read" by Charmaine Warren in her Amsterdam News review. It chronicles the life of an extraordinary and elusive woman, who became a unique concert dance soloist as well as a trailblazer in the white world of classical ballet—the first African-American prima ballerina at the Metropolitan Opera.
The book opens with Collins's unfinished memoir, which gives a captivating account of her childhood and young adult years, including her rejection by the Ballet Russe de Monte Carlo—based on Collins's refusal to whiten her face. Lewin then picks up the thread of Collins's story, drawing on extensive research and interviews to explore Collins's development as a dancer, choreographer, and painter, giving us a profoundly moving portrait of an artist of indomitable spirit in an era in which racial bias prevailed. The book contains 65 illustrations, including 49 photographs as well as 16 color plates of Collins and her visual artwork.
Winner of the Marfield Prize, the National Award for Arts Writing, from the Arts Club of Washington, Night's Dancer reveals that Collins's brilliant performances transformed how African-American dancers were perceived in the world of ballet, making way for future ballet dancers of color. The 70th anniversary of her historic debut at the Metropolitan Opera will be celebrated on November 13, 2021.
Yaël Tamar Lewin is a dance historian, writer, and dancer living in New York City.
Praise for Night's Dancer
"Night's Dancer: The Life of Janet Collins is an enthralling read. It reinforces Collins's struggle, personal strength and ultimate success. While following her dreams with endless energy, she leapt over boundaries."
—Karen Barr, Dance International
"Much of Collins's career is lost in the gaps of performance history, and Lewin has done wonders to restore to the record the work of this pioneering woman, as well as printing Collins's forty-odd pages of reminiscences for the first time… Night's Dancer is a fine contribution both to dance history and the history of segregation in the United States."
—Judith Flanders, Times Literary Supplement
"With Night's Dancer, Lewin has produced a major work that continues to correct the absence of historical writing on African Americans in ballet and modern dance. The author incorporates Collins's own writings, intimate details from the artist's life, and rich contextual material to create a work that is emotionally touching and incredibly informative."
—John O. Perpener III, author of African-American Concert Dance: The Harlem Renaissance and Beyond

"Blessed with extraordinary gifts for dance and painting, Janet Collins broke barriers as the first African-American prima ballerina at the world-renowned Metropolitan Opera. Her life's journey is inspirational. History should recognize her as one of its pioneers. Janet Collins was truly one of earth's angels."
—Arthur Mitchell, co-founder of the Dance Theatre of Harlem
"Psychologists, sociologists, historians, painters, dancers, choreographers—here is your book! This is a careful, objective, revealing study of a complex and enigmatic person. Collins was richly blessed with creative talents and deeply drawn to a spiritual life. Night's Dancer explores her struggle to fulfill and be fulfilled. A scholarly, beautiful, important work, and long overdue."
—Raven Wilkinson, first African-American dancer with the Ballet Russe de Monte Carlo