Wesleyan University Press has a long and distinguished history of publishing in dance. This began in 1958 with the publication of its very first book, The Theatre of Robert Edmond Jones by the late Ralph Pendleton and was solidified in 1966 with Selma Jeanne Cohen's The Modern Dance. Press editor Jose Rollins de la Torre Bueno had a special interest in dance – and focussed on letting the dancers' true thoughts and voices come through in their writing. Under his leadership, the press became, according to Anna Kisselgoff, "the outstanding publishing house for anyone with a serious interest in dance." He was the first university press editor to develop a list in dance studies.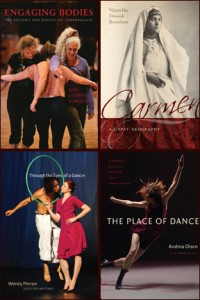 Today, Wesleyan happily continues this tradition. This season, the press has a number of new and forthcoming titles to be added to its outstanding dance list. Carmen: A Gypsy Geography, by Ninotchka Devorah Bennahum, traces the genealogy of the titular female Gypsy presence in her iconic operatic role from her genesis in the ancient Mediterranean world, her emergence as flamenco artist in the architectural spaces of
Islamic Spain, her persistent manifestation in Picasso, and her contemporary relevance on stage. In Engaging Bodies: The Politics and Poetics of Corporeality, Ann Cooper Albright draws on her kinesthetic sensibilities as well as her intellectual knowledge to articulate how movement creates meaning. The Place of Dance: A Somatic Guide to Dancing and Dance Making, by internationally known choreographer and educator Andrea Olsen, is a workbook integrating experiential anatomy with the process of moving and dancing, with a particular focus on the creative journey involved in choreographing, improvising, and performing for the stage. Finally, Wendy Perron's Through the Eyes of a Dancer: Selected Writings gives readers an up-close, personalized look at dancing as an art form while surveying a wide rang of styles and genres. Perron will be appearing at The King's English Bookshop in Salt Lake City, UT on December 2 at 7 pm.
Wesleyan University Press plans to continue its history of excellence in dance publishing for many years to come!