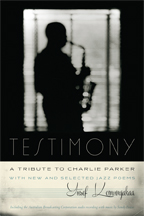 The Fiddlehead recognized Wesleyan author, Yusef Komunyakaa, in a retrospective found in their Autumn 2013 issue (No. 257).  Below is the introduction, by Nick Thran.
From The Fiddlehead:
"The American novelist and essayist Ralph Ellison famously wrote this description of his ideal elected official for America's highest office: "A great president is one through whom the essential conflicts of democracy—the struggle between past and present, class and class, race and race, region and region—are brought into the most intense and creative focus." Replace "president" with "poet" here and you have a convenient and not entirely false description of Yusef Komunyakaa's oeuvre, and perhaps a tangential sketch of the author himself. Komunyakaa is an African American from a working class background in Bogalusa, Louisiana. He is a Vietnam War veteran. He's won a Pulitzer. He's a noted academic, having taught for years at Princeton and now New York University. The National Book Critic's circle, on the occasion of the nomination of his latest book, The Chameleon Couch, made a press release pitch on his behalf to The Nobel Committee. This sort of biographical detail is irresistible, and it is a problem, as the rubric of any evaluation of his work can easily slide into that of a campaign commercial. It's been too easy for American critics over the years to say scholar and jazzman, Dickinson and Whitman, Apollo and Dionysus — play some Springsteen, wipe their hands, pledge allegiance to the flag, and call it a good day's work.
At odds with this gloss is the cosmology of tiny hooks that, word by word and line by line, make his work so memorable. Komunyakaa's own professorial maxim, "the ear is a great editor," only gestures towards the degree of craftsmanship on display in his work. Here are four lines from a poem called "Moonshine," ostensibly about planting an oak tree with his father and then leaving the backyard in Louisiana for a long, long journey: "If anything could now plumb / Distance, that tree comes close, / Recounting lost friends / As they turn into mist." The first line break is straightforward. In the second line the clause after "Distance" is effective in accordance to its proximity to the aforementioned noun, but also because of the spectrum of horror that an oak tree in a southern state is invariably going to conjure (particularly in a clause with a rope-like comma dangling at the end of a line). The third line is even more nuanced: nostalgia's long vowels, but also the "rie" of "friends" looping back on the "Re" of "Recounting." Finally, four of the five words in that last line are one syllable (the fifth a two-syllable compound), as if to enact the friends' disappearance, that breaking apart. The ear is a great editor, yes. But every part of the human body will need to be evoked in describing these kinds of poetic effects.
The Vietnam War poems from two earlier collections, Toys in a Field and Dien Cai Dau, are probably those for which he is still best known. We've included a small number of them here. Poems like "Facing It" are some of the frankest writing about combat and its aftermath that we have. Aside from their well-documented merits, they can be viewed, I think, as the culmination of the kind of short free-verse narrative/monologue form that Komunyakaa worked in right up until Neon Vernacular: New and Selected Poems. Other early poems draw heavily from experiences in his native Bogalusa, as well as from jazz lore, folklore, and the civil rights movement. While these all remain wellsprings for later poems, the "new" poems in Neon Vernacular appeared as harbingers of a discursive explosion, a fanning out into long poems and book-length sequences such as Talking Dirty to the Gods, Taboo and "Autobiography of My Alter Ego," which highlight the second phase of his career. Talking Dirty is a marvelous example of this: 131 sixteen-line poems whose closest kin is perhaps the odes of Pablo Neruda. This collection was the toughest for Ross Leckie and I to select from, in large part because Komunyakaa ranges across history, the humanities, and the etymologists' table with such a sustained, intricate and ecstatic melody, that to "choose the best" seemed to go against the very blade of the book's great leveling.
From Thieves of Paradise onward, the speaker of the earlier poems gradually grows less visible, wearing a range of masks and travelling from culture to culture, from antiquity to modern times. In The Chameleon Couch, which was also nominated for the 2011 Griffin Prize, Komunyakaa appears to return, formally, to the kind of poem that first made him famous. But he does so in much the same way as the older, well-travelled musician abandons the full band that fleshed out his sound and returns for an encore with only his own guitar, giving hard-won new inflections to the sparest songs. Komunyakaa continues to write about the most harrowing kinds of experience, both personal and public, but with a lightness of touch that has measured each note against the wheel, and will rise and fall not according to his previous "need so deep you got to vomit up ghosts" but as "a sober voice . . . to calm the waters & drive away / the false witnesses."
We are thrilled to be able to include a number of new poems that Komunyakaa has generously offered us here, as well as a selection of pieces spanning his career. I hope that readers who are already familiar with his work will see this as an occasion to re-read some poems and consider again our own conceptions of "the essential conflicts of democracy" in these precarious times, as well as just what "intense and creative focus" might mean for us, in our work and in our lives. These are poems that reward such considerations as they enact them."
Yusef Komunyakaa's recent work, Testimony , is another evocative pieces; a tribute to Charlie Parker exploring "the many sides of this legendary musician; the 14 sonnets that compose the long poem Testimony provide a complex, humanistic view of the saxophonist's life."