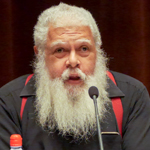 The Science Fiction Writers Association (SFWA) has announced that Samuel R. Delany is the recipient of the 2013 Damon Knight Memorial Grand Master Award. The award recognizes Delany's lifetime achievements as an SF author. Delany will receive the award at the Nebula award ceremonies in May. Delany is the author of many beloved books published by Wesleyan University Press.
Here is short introduction to Delany's life and work, compiled by Wesleyan University Press director and editor-in-chief Suzanna Tamminen:
Samuel R. Delany is one of science fiction's most influential authors, critics, and teachers. He appears to be always writing and to always have been writing. This is both a commentary on his many published books and also on the way he seems to live inside language, in both the spirit and the word. His work is dear to many writers, indeed his work has profoundly influenced several generations of writers, and the spirit manifested in his words, how he uses words to create and open up structures of thought, has earned him many ardent readers.
Delany's works range from autobiography and essays to literary and cultural criticism, to fiction and science fiction, this last his most widely recognized genre. He served as professor of comparative literature at the University of Massachusetts at Amherst, and most recently has been a professor of English and creative writing at Temple University in Philadelphia.
The outline of the writer's life is itself novel-worthy. Delany's grandfather, Henry Beard Delany, was born a slave in Georgia in 1857, and became the first black suffrage Episcopal bishop of the Archdiocese of North and South Carolina as well as vice-chancellor of a black Episcopal college, St. Augustine's, in Raleigh, North Carolina.
He grew up in Harlem where his father, Samuel Sr., owned and operated the Levy & Delany Funeral Home. His mother, Margaret Delany, was a clerk in the New York Public Library system. The family lived in the two floors over Samuel Sr.'s Seventh Avenue business. His aunts were the Delany Sisters who were always Having Their Say.
Delany finished and sold his first published novel, The Jewels of Aptor, when he was still nineteen. Before his twenty-second birthday, he'd completed and sold four more novels, including a trilogy: The Fall of the Towers.
In 1974, Dhalgren, Delany's most controversial work, made its appearance. At eight hundred seventy-nine pages in its initial Bantam Books edition, it drew much praise, much scorn—and open anger. Over the next dozen years, however, it sold more than a million copies and, today, has settled comfortably into the slot reserved for "classics of the genre." As Delany's most popular book, it has been turned into both a play on the East Coast and an opera on the West Coast.
Dhalgren was followed by the highly acclaimed novel Trouble on Triton. From 1979 to 1987, Delany wrote a connected set of eleven fantasy tales: two novels, three novellas, and six short stories. They include The Tale of Plagues and Carnivals (1987)—the first novel about AIDS released by a major American publisher—and the Return to Nevèrÿon series. In 1984 Delany's last purely SF novel for twenty-five years would appear, Stars in My Pocket Like Grains of Sand—a book in which he predicted the Internet a decade before the fact.
Since then, Delany has written highly praised works, both fictitious and autobiographical. His 1988 publication, The Motion of Light in Water, is a staple of gender studies and African American studies classes and received a Hugo Award for nonfiction. In 1995, he published three long stories, about black life in the Jazz Age, the fifties in New York, and the sixties in Europe, collected in Atlantis: Three Tales and, partly, in The Norton Anthology of African American Literature. This was followed by collections of interviews and nonfiction essays, including Silent Interviews (1994), Longer Views (1996), and Shorter Views (1999), all published by Wesleyan University Press.
Among his highly acclaimed academic releases are Times Square Red, Times Square Blue—and About Writing. Other novels, long and short, from this time include The Mad Man, Hogg ("the most shocking novel of the 20th century," wrote Larry McCaffery), and Phallos. His novel about a black gay poet living in the East Village over the turn of the most recent century, Dark Reflections, won the 2008 Stonewall Book Award. His most recent novel, Through the Valley of the Nest of Spiders (2012), is over eight hundred pages—an amalgam of gay erotic writing, rural realism, and science fiction.
Altogether, Delany has won four Nebula Awards and two Hugo Awards, as well as the Bill Whitehead Award for a lifetime contribution to gay and lesbian writing. In 2002, Delany was inducted into the Science Fiction and Fantasy Hall of Fame. He received the Pilgrim Award for SF scholarship in 1985 and the J. Lloyd Eaton Lifetime Achievement Award in 2010. That same year he was among the judges for the National Book Award in Fiction. In 2007 he was the subject of Fred Barney Taylor's documentary The Polymath, or, The Life and Opinions of Samuel R. Delany, Gentleman, in which Delany is interviewed by Jonathan Lethem.  includes an experimental color film, The Orchid, which Delany himself wrote, directed, and edited in 1972.