Brenda Coultas has been keeping busy after the release of her latest book, The Tatters! On Sunday, August 24th, she will be reading in the Widow Jane Mine in Rosendale, New York, as part of the 24th Annual Subterranean Poetry Festival.
.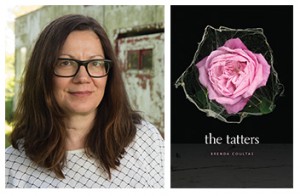 .
This week's TBT selection is "Dream Life in a case of Transvestism," from Coultas's first book Early Films
(Rodent Press, 1996). The poem was recently reprinted in Gurlesque: the new grrly, grotesque, burlesque poetics, a 2010 anthology edited by Lara Glenum and Arielle Greenberg. 
Dream Life in a Case of Transvestism

1

I'm in a man's uniform with military creases in the shirt. I search an informant for drugs or money, to verify that she goes in clean. It's very hot. She wears a tank top, shorts, and slip-on shoes. She pulls up her top; nothing beneath her breasts but a wire taped on for sound. I look down her shorts, public hair shaved. Check inside the soles of her shoes. Nothing. It's daylight and we are in an empty railroad yard.

2

My sister and I walk down the midway in matching sailor suits. My cousin Tommy is dressed in a nautical jacket, carrying a cane with a ceramic dalmatian head. All the carny barkers watch. They wish they were dressed like us.

3

At a party for girls only, I wear a can-can dress with big kittens on the skirt. It has  a velcro zipper that I like to open and close. We take our clothes off. They all turn out to be boys. Later, I found out that I went on the wrong day.

4

I am a woman dressed as a man dressed as a woman. I am so much a woman I do not recognize myself. Yet I have never been more of a man.

My testicles lie beneath my skin and I touch the two knots in my groin. When I swear I place my right hand upon them and tell the truth, as told by me, a liar.

5

Since I became a woman dressed as a man dressed as a woman, I lost my virginity. There are sixteen types of hymens. I had thirteen of them. My hymen was a chameleon that hung from a chain on my sweater and changed shape constantly.

"What's that on your sweater?"

"It's just an old maidenhead that I spray painted gold and glued some sequins onto."

6

I lost it in a car in Kentucky, beneath the bride where I was born in the car's back seat. My father drove, the doctor in back with my mother. My father drove faster and faster. Her pains came closer and closer together. The crown of my head emerged. We were late crossing the water. All of us were very, very late.