This week's Throwback Thursday selection is Frances Chung's "For Li Po" from Crazy Melon and Chinese Apple: The Poems of Francis Chung (2000).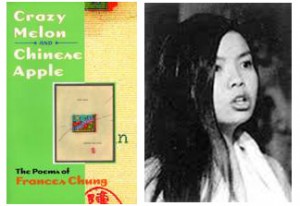 .
For Li Po

they read your poem still
at the New School
in Pound's translation

at West Lake your spirit
mingles with Su Tung Po's
a willow path is named for you

in Shanghai we found you
reclining in a Friendship store
carved out of an olive pit

in Chinatown a waiter tells of
the time you visited Hangchow
was it there you took your life

you will be pleased to know
your legend lives on
we remember your middle name
FRANCES CHUNG (1950 – 1990) published her poetry in several anthologies and journals, including The Portable Lower East Side and IKON, and posthumously in Premonitions: The Kaya Anthology of New Asian North American Poetry and Chain. A teacher of mathematics in Lower East Side public schools who often taught in Spanish, she was awarded several poetry fellowships by the New York Times Co. Foundation and New York State Council on the Arts. Find a heart-felt piece about Chung, who we lost too soon, here.
WALTER K. LEW, editor of Crazy Melon and Chinese Apple, is the author of Excerpts from: DIKTE for DICTEE (1982), editor of the poetry anthology Premonitions, and co-editor of Kŏri: the Beacon Anthology of Korean American Fiction.