We are pleased to announce that Ann Cooper Albright's book Engaging Bodies: The Politics and Poetics of Corporeality, has been selected as the winner of the Selma Jeanne Cohen Prize in Dance Aesthetics.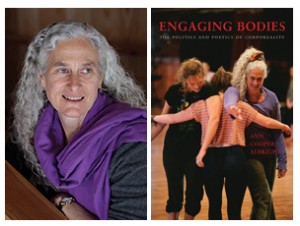 The prize honors Selma Jeanne Cohen's work in dance theory, dance history, and dance aesthetics, and is funded by a bequest from her estate. The winner will be publicly announced during the national meeting of the ASA on October 29 to November 1, 2014 in San Antonio, Texas.
The American Society for Aesthetics was founded in 1942 to promote study, research, discussion, and publication in aesthetics. "Aesthetics," in this connection, is understood to include all studies of the arts and related types of experience from a philosophic, scientific, or other theoretical standpoint, including those of psychology, sociology, anthropology, cultural history, art criticism, and education. "The arts" include the visual arts, literature, music, and theater arts.
The ASA publishes the Journal of Aesthetics and Art Criticism and The ASA Newsletter.