This week's Throwback Thursday selection—for the last Thursday of October—is "The Clear Air of October," from Robert Bly's 1962 collection Silence in the Snowy Fields (also available in a special-edition minibook).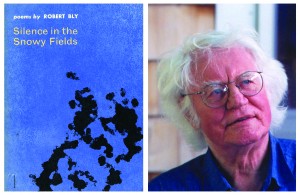 .
The Clear Air of October

I can see outside the gold wings without birds
Flying around, and the wells of cold water
Without walls standing eighty feet up in the air,
I can feel the crickets' singing carrying them into the sky.

I know these cold shadows are falling for hundreds of miles,
Crossing lawns in tiny towns, and the doors of Catholic churches;
I know the horse of darkness is riding fast to the east,
Carrying a thin man with no coat.

And I know the sun is sinking down great stairs,
Like an executioner with a great blade walking into a cellar,
And the gold animals, the lions, and the zebras, and the pheasants,
Are waiting at the head of the stairs with robbers' eyes.
ROBERT BLY, poet, translator, editor, lives on a farm near Madison, Minnesota, in the region where he was born. He has been dedicated to poetry even before his student years at Harvard. His second book, The Light Around the Body, won the 1968 National Book Award for poetry. Among several translations is Times Alone: Selected Poems of Antonio Machado (Wesleyan 1983).