Happy Halloween and Samhain (an ancient Gaelic festival marking the end of the harvest season)—and happy birthday to one of Wesleyan's celebrated poets, Annie Finch. Finch was born on October 31st, 1956. She is a Wiccan, and her latest book is Spells, published by Wesleyan on April 2, 2013. Spells, which brings Finch's most striking old poems together with new and previously unpublished work, brings readers to "experience poetry not just in the mind, but in the body."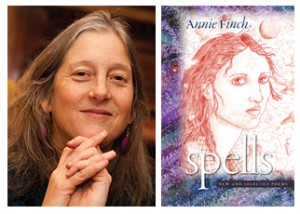 Her other books include poetry collections Eve (1997) and Calendars (2003), and the long poems The Encyclopedia of Scotland (1982) and Among the Goddesses: An Epic Libretto in Seven Dreams (2009), as well as several critical works. Her work has been published in journals including Yale Review, Harvard Review, Partisan Review, and Paris Review, and anthologized in collections like The Penguin Book of Twentieth-Century American Poetry and The Penguin Book of the Sonnet. She is the winner of the Sarasvati Award for Poetry and the Robert Fitzgerald Award, and is currently at work on a memoir, American Witch.
Finch has read and performed her work across the U.S. and in Canada, Europe, and Africa. She is a featured columnist for The Huffington Post, writing on poetry, feminism, and paganism. She teaches in the University of Southern Maine's Stonecoast writing program, and as a visiting poet across the country. In the coming year she will head to Arizona to participate in the Tucson Festival of Books, as well as to teach a workshop at the University of Arizona Poetry Center.
Finch has also appeared on the airwaves in KRCB's WordTemple, which showcases the most interesting work and stories in the world of literature. In November 2013, Finch appeared on the program with fellow Wesleyan author Kazim Ali to discuss their books, Spells and Sky Ward. In March 2014, Finch appeared alongside the influential feminist poet Carolyn Kizer, who passed away on October 9th. In April, an essay of Finch's about her relationship with Kizer was read on-air. That essay, "Visiting Carolyn Kizer," can also be found online at the Poetry Foundation.
In honor of Samhain, please enjoy two poems from Spells—"Samhain" and "Spider Woman."
Samhain

(October 31)

In the season leaves should love,
since it gives them leave to move
through the wind, towards the ground
they were watching while they hung,
legend says there is a seam
stitching darkness like a name.

Now when dying grasses veil
earth from the sky in one last pale
wave, as autumn dies to bring
winter back, and then the spring,
we who die ourselves can peel
back another kind of veil

that hangs among us like thick smoke.
Tonight at last I feel it shake.
I feel the nights stretching away
thousands long behind the days
till they reach the darkness where
all of me is ancestor.

I move my hand and feel a touch
move with me, and when I brush
my own mind across another,
I am with my mother's mother.
Sure as footsteps in my waiting
self, I find her, and she brings

arms that carry answers for me,
intimate, a waiting bounty.
"Carry me." She leaves this trail
through a shudder of the veil,
and leaves, like amber where she stays,
a gift for her perpetual gaze.

Spider Woman

Your thoughts in a web have covered the sky.
A thread from the northwest is carrying beads from the rain,
a thread from the southwest is carrying beads from the rain,
a thread from the southeast carries bright beads,
a thread from the northeast is bringing the beads
of the rain that has filled up the sky.
Spider, you have woven a chain
stretching with rain over the sky.