This week's Throwback Thursday post revisits the work of Rockwell Kent (1882–1971). Kent was one of America's most celebrated graphic artists. Although he is best known for his illustrations to accompany The Complete Works of William Shakespeare and Moby Dick, his artwork also appeared widely in popular media. Kent was also a travel writer. His illustrated books of adventure include N by E, Wilderness, Salamina and Voyaging, all reissued by Wesleyan University Press, a tribute to their perennial appeal. During his Christmas spent in Seward, Alaska, in 1918, Kent produced an adorable keepsake volume, A Northern Christmas, with a dedication that reads: "To EVERYBODY. A Merry Christmas and a Happy New Year." In the format of a journal, A Northern Christmas recounts the scenery and company enjoyed during the days leading up to Christmas.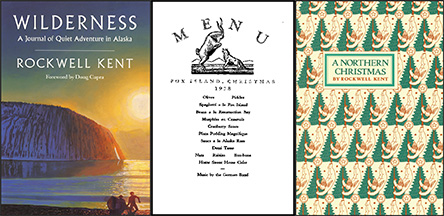 During that December, Kent and his son, Rockwell Jr., spent their days
…in a forest on a low-lying level fill between two mountain peaks…our house a one room cabin crudely built of logs and caulked with moss; our dooryard—toward the view—the space we cleared by felling trees for fuel; our view a crescent cove, the bay, the mountains of the distant shore, the sky, the moon and stars at night. And, for companionship, ourselves, each other, and a genial, wise and kind old man, old Sourdough of early gold rush days, old trapper, lifelong pioneer, a Swede named Olson: we three, a pair of foxes shut in a corral, a milk goat (cherished Nanny), an obstreperous Angora goat (one Billy) and some foolishly adoring women of his kind, otters that now and then sat basking on the rocks, blue jays and gulls, and porcupines. It was enough. Of the fullness of the days—fullness of work and thought, of play, of little happenings, of uneventful peace—we kept record.
Kent describes a walk with his eight-year-old son:
This day is never to be forgotten, so beautiful, so calm, so still with the earth and every branch and tree muffled in deep, feathery, new-fallen snow. And all day the softest clouds have drifted lazily over the heaven, shrouding the land here and there in veils of falling snow, while elsewhere or through the snow itself the sun shone. Golden shadows, dazzling peaks, fairy tracery of the branches against the blue summer sea! It was a day to Live,—and work could be forgotten. So Rockwell and I explored the woods, at first reverently treading one path, so that the snow about us might still lie undisturbed. But soon the cub in the boy broke out and he rolled in the deepest thickets, shook the trees down upon himself, lay still in the snow for me to cover him completely, washed his face till it was crimson, and wound up with a naked snow-bath. I photographed him standing thus in the deep snow at the water's edge with the mountains far off behind him. Then he dried himself at the roaring fire we'd made ready and felt like a new boy—if that can be imagined. Meanwhile I searched in the woods for a Christmas tree and cut a fair-sized one at last for its top. Christmas is right upon us now. To-night the cranberries stew on the stove.
The memory of Rockwell Kent's visit persists in Seward, where the holiday season comes to life every year through events like the annual Arts and Crafts Fair. This year the Seward Journal and Cover to Cover Bookstore adopted a literary holiday theme, drawing form Rockwell Kent's Wilderness and A Northern Christmas. 
Using the expertise of Seward's local historian, Doug Capra, who has written extensively on Kent and who wrote the introductions to Wesleyan's editions of Wilderness and A Northern Christmas, the newspaper and bookstore adopted "A Northern Christmas" theme. Gene's Place, the restaurant located in the Hotel Seward , will offer Kent's "Christmas Menu," from Wilderness, reproducing his recipe for Fox Island Corn Soufflé.
"As Christmas approaches on Fox Island, Kent choreographs his own dance, teaches steps to his son and Olson, and even provides the music with his flute," wrote Capra in the forward of A Northern Christmas. "The artist, his son and the old man brighten the winter darkness with a candle lit tree, hang spruce and hemlock boughs for decoration, make do with homemade gifts, and cook up a Christmas feast announced with hand-printed menus. He has again fulfilled a life-long goal by creating his culture rather than being created by it."
Not only has Capra written extensively on Rockwell Kent; he also authored his own book on Alaska's history called The Spaces Between: Stories From the Kenai Mountains To the Kenai Fjords.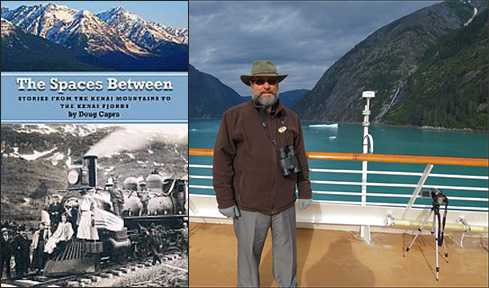 Capra draws on extensive original research, including interviews with elders. He lends attention to the women of Seward, who have received scant recognition for their strength and contributions to the community. In a colorful collection of articles and stories about the European pioneers who settled on the eastern Kenai Peninsula, The Spaces Between is both an educational and entertaining book.