Today's Throwback Thursday poem is Joseph Ceravolo's "Night Wanderer" from Collected Poems.
In his lifetime, Ceravolo published six books. The publication of Collected Poems made these six books available again, and also includes a substantial amount of work that has never been in print. Collected Poems offers the first full portrait of Ceravolo's aesthetic trajectory, bringing to light his highly original voice that often operated at a remove from his contemporaries.
Ceravolo's poem, "Hidden Bird," also found in Collected Poems, was selected for the anthology The Best American Poetry, 2014. The paperback edition of Collected Poems is due out in April, 2015.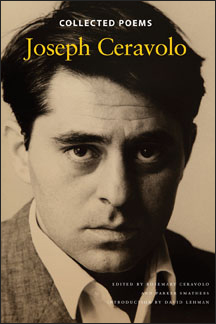 Night Wander
Eyes without light,
night without eyes,
scum of the earth, primordial skin.
A black, a beautiful universe.
Skin and eyes and fever
travels within itself
into the other.
Do not be afraid.
Recline with your hopes
on this resplendent day.
Birds cry out to the morning,
the ground calls me brother.
I crawl to you
wiped out,
stains on the heart.
O you who from our eyes is hid
with one odor
one note
and no explosion at all.
JOSEPH CERAVOLO (1934–1988) was a poet and civil engineer who was born in Astoria, Queens, and lived in New Jersey. He was the author of six books of poetry and won the first Frank O'Hara Award.
Ceravolo was not the only Wesleyan poet to be honored for a stand-out poem. Rae Armantrout's "Control," from Just Saying, was also included in The Best American Poetry, 2014.