Today we wish Clayton Eshleman a happy 80th birthday!
Eshleman has been at the heart of American poetry since the early 1960s. His poems, critical essays, and translations of noteworthy poets as diverse as César Vallejo, Aimé Césaire, Pablo Neruda, Antonin Artaud, Vladimir Holan, Michel Deguy, Henri Michaux, and Bernard Bador have earned him international acclaim. Widely anthologized, his work has appeared in over 400 magazines and newspapers and translated into eight languages. He has given readings and lectured to audiences at universities and other venues around the world.
His work is widely known and lauded. Eshleman has been honored with many awards and honors, including a National Book Award, a Guggenheim Fellowship, numerous grants from the National Endowment for the Arts and the National Endowment for the Humanities, two Landon Translation Prizes from the Academy of American Poets, and a Hemingway Translation Grant. In 1994, he was a fellow at the Rockefeller Study Center in Bellagio, Italy, where he wrote a 50 page poem on Hieronymus Bosch's The Garden of Earthly Delights. In 2007 University of California Press published his translation of Vallejo's verse, The Complete Poetry of César Vallejo, a work on which he spent spent over forty years.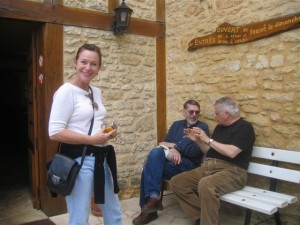 Tour director Nancee Clark (Ringling Brother School of Art and Design), Robert Creeley, and Clayton Eshleman.
From 1996 to 2008, Eshleman and his wife Caryl led yearly tours to the Ice Age painted caves of southwestern France, sponsored by the Ringling School of Art and Design, in Sarasota, Florida. These tours featured thoughtful guest lecturers such as Robert Creeley, Gary Snyder, and novelist Wade Davis. Eshleman utilized his research of Ice Age Cave Art from the past 30 years and lectured on six of the some three hundred decorated caves. His book Juniper Fuse is based on this research and experience; it is, as Ronald Gottesman calls it, "a fabulous three-dimensional tapestry of scholarship. Original and intense, it poses serious questions about human nature and its relation to the animal and natural worlds."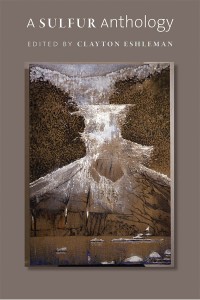 Eshleman was also the founder and editor of two of the most important literary journalism the latter half of the 20th century: Caterpillar (1967–1973, 20 issues) and Sulfur (1981–2000, 46 issues). Sulfur magazine presented an overview of innovative writing from around the world. Forty-six issues were published, totaling some 11,000 pages and featuring over eight hundred writers and artists, including Norman O. Brown, Jorie Graham, James Hillman, Mina Loy, Ron Padgett, Octavio Paz, Ezra Pound, Adrienne Rich, Rainer Maria Rilke, William Carlos Williams, and many more. Each issue featured a diverse offering of poetry, translations, previously unpublished archival material, visual art, essays, and reviews. Sulfur was a hotbed for critical thinking and commentary and also provided a home for the work of unknown and younger poets. In the course of its twenty year run, Sulfur maintained a reputation as the premier publication of alternative and experimental writing. His wife Caryl was the managing editor for the magazine's entire run. A Sulfur Anthology, containing a generous selection of highlights from the journal's nearly twenty year run, will be published by Wesleyan University Press in December 2015
The Essential Poetry (1960–2015)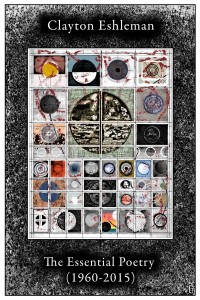 The Essential Poetry (1960–2015) is due out this summer, from Black Widow Press. This definitive collection spans the entirety of Eshleman's poetic output. It is an essential reference work for Eshleman readers.
Previously Published Collections and Translations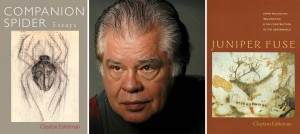 Wesleyan University Press has previously published two works by Eshleman. Companion Spider is a book of essays on poetics, translation, and publishing; and Juniper Fuse: Upper Paleolithic Imagination & the Construction of the Underworld is a groundbreaking collection of poetry and prose that is the culmination of Eshleman's twenty-five years of research into the origins of image-making via the Ice Age painted caves of southwestern France. 
Concerning Juniper Fuse, Gary Snyder wrote:
"Archeologists and artists have written on southwestern European cave art, but none have given us a book like this. Clayton Eshleman has explored and inspected almost all of the great cave art of southwestern Europe including many caves that are not open to the public and require special permission. Now with visionary imagination, informed poetic speculation, deep insight, breathtaking leaps of mind, Eshleman draws out the underground of myth, psychology, prehistory, and the first turn of the human mind toward the modern. Juniper Fuse opens us up to our ancient selves: we might be weirder (and also better) than we thought."

In the foreword of Companion Spider, Adrienne Rich wrote:
"Clayton Eshleman has gone more deeply into his art, its process and demands, than any modern American poet since Robert Duncan and Muriel Rukeyser. As a poet, Eshleman has wrestled with his vocation and, in some senses, created himself through poetry. He has written on the self-making and apprenticeship of the poet and of the poet as translator as no one else in North America in the later twentieth century. He has written perceptively about visual art in its relationship to contemporary poetics. And he has delivered stinging critiques of mediocrity and cautiousness in the standardizing of poetic canons."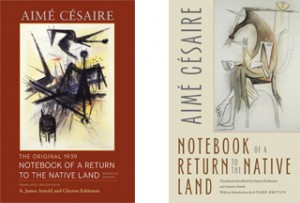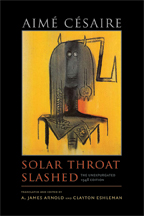 Eshleman's work as a translator includes three volumes of Aimé Césaire's poetry published by Wesleyan. Notebook of a Return to the Native Land, translated with Annette Smith, and 1939 Original Notebook of a Return to the Native Land, translated with A. James Arnold, are both available, as bilingual editions. Solar Throat Slashed: The Unexpurgated 1948 Edition, also translated with A. James Arnold, is the first bilingual edition of the work.
We commend Clayton Eshleman for his impressive contributions to poetry and translation, and wish him the best on this 80th birthday!