Today's Throwback Thursday selection is from our 2008 book The Old Leather Man.
I first learned about the Old Leather Man around 15 years ago, when I worked for Arcadia Publishing. One day, after joining the staff here at Wesleyan, I was pleasantly surprised to see a proposal for an entire book on the subject. That book, The Old Leather Man: Historical Accounts of a Connecticut and New York Legend, has gone on to become one of our best-selling regional books. First published in 2008, it has maintained a steady stream of interest. The book and its author, Dan W. DeLuca, were recently the subject of a feature article, by Jon Campbell, in The Village Voice. It is wonderful to see Yann Legendre's phantom-like interpretation of the mystery man gracing the cover of The Voice. It is not often that we see regional history and regional books receiving this kind of coverage!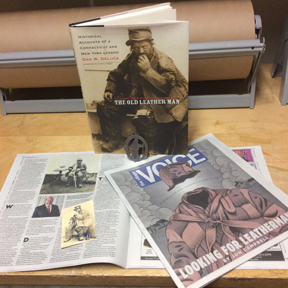 The Old Leather Man, featured in The Village Voice. Our book, the newspaper, and some memorabilia are seen here.
Eddie Vedder, of Pearl Jam fame, happens to be a fan of the mystery man, and our book. Vedder wrote of our book on his band's website. He said: "While this book offers up his life and times in the most complete manner possible, the mystery of Leather Man remains intact. It's also interesting to note the parallels between the Leather Man and Chris McCandless who we got to know through Into the Wild."
The spirit embodied by the Leather Man is universal. As Vedder pointed out, the desire to drop out of society and roam the world freely remains strong in our modern times. Who hasn't day-dreamed about leaving it all behind and walking off into the woods?
from Connecticut Valley Advertiser, Saturday, December 27, 1873
The veritable "Old Leather Man" paid our village another visit last week. It has long been a query who he is, where he comes from, and where he stays nights. With the juveniles, the latter query is the most important, and for their gratification, more particularly we can inform them that his home is in a cave, in what is known as Elijah's ledges, in the west part of the town of Westbrook. In this lonely place he makes a home when he wanders this way. The cave is small and does not compare very favorably, either in size or gorgeousness, with the famous "Cave of the Winds" at Moodus. This queer specimen of humanity, clothed in leather, is indeed a curiosity. He is very reticent, only conversing when necessity compels it in soliciting food. It is not known where he came from, but it is generally supposed that he escaped from some Dime Novel.
Not everyone was happy about visits from Old Leathery and his kind.
from Bristol Press, Thursday, August 26, 1875
Tramp, Tramp, Tramp

There would appear to be no immediate prospect of abatement of the tramp nuisance. Rather, the tramp seems to have become ubiquitous and the growth of his order is only equaled by its capacity for villainy and "general cussedness." The few mild measures taken in some sections for the suppression of this dangerous class have proved wholly inoperative, thus far. How long the community at large will continue to bear the inflictions before resorting to a more vigorous and wholesome treatment is difficult to determine. From the way in which people permit themselves to be imposed upon and cowed into acquiescence with all that these rascals insolently demand, we should judge that this is a sort of tramps' millennium and is to be of indefinite duration. At any rate the tramps are increasing and with their multiplication, robbery, incendiarism, intimidation, rape and murder in like ratio become more and more common.

This tramp nuisance will continue just so long as people submit to it and no longer. The remedy is within reach. It is a simple remedy, easily applied. It may appear to some to be harsh, but if people would be rid of the evil, they must first make up their minds that harsh measures are the only ones that can be made effective. In the first place, stop feeding tramps. Secondly, let every man, woman and youth learn how to use a revolver and have one or more of these useful articles in every house, especially if in an isolated situation. Then whenever a tramp appears, peremptorily refuse him food or shelter and escort him off the premises at the muzzle of a cocked revolver and if he isn't easily scared and attempts force, shoot.

A trusty weapon in every house and a disposition to use it on very slight provocation, will do more to squelch this abomination than any other means possible to use. And when people drop their squeamishness and sickly philanthropy and all other classes of criminals with that promptness and fidelity which is possible only by taking the law into their own hands, the moral atmosphere will improve wonderfully and life, property and virtue will be properly respected.
Yet others took pity on this lost soul, and were happy to feed him.
from Connecticut Valley Advertiser, Saturday, December 4, 1875
The old veteran leather man passed through this place on Thursday last, and as usual, he stopped at the house of W. B. Starkey, on South Blood street, and partook of hot coffee, cake, pie, etc., as he has done for the past twenty years. He makes his trips every six weeks. He is always on time and never fails.
Sadly, the man who seemingly had no name died a rather painful death from cancer of the mouth.
from Evening News, Friday, January 25, 1889
The Leather Man in Redding

The Leather Man was in Redding and called early in the morning at the residence of Dr. J. H. Benedict, where he asked for a breakfast. He was readily recognized by Mrs. Benedict from his leather clothing, and she invited him into the kitchen. As Mrs. Benedict can speak French she soon learned his wants, which were simply coffee, and she furnished him with all he desired. He drank the full of two large bowls, into each of which he put a teacupful of sugar.

He explained that he was unable to partake of solid food on account of his cancer, which prevented chewing. He conversed for a short time with Mrs. Benedict in French, until she asked him of his antecedents and then he became suddenly and stubbornly silent and spoke in his broken English.

His cancer is rapidly eating away his life. The right cheek is entirely gone, including a portion of the lower lip. He would not allow Dr. Benedict to dress it or Mrs. Benedict to do anything for his comfort, save to give him the coffee and a bottle of milk.

He now seems very shaky and is evidently drawing near his end. It seems as if the Humane Society should look after him, and care for him, even if it was necessary to do so by force, or else some day he will be found a corpse in some out of the way place, the victim of a-craze, want, neglect and exposure.
In the end, the Leather Man died alone. His death was reported in the Hartford Times, on Monday evening, March 25, 1889. The headline read:
"The Old Leather Man" Gone
FOUND DEAD IN A CAVE
a great sufferer from cancer
| | |
| --- | --- |
| | At Left: The Old Leather Man, photographer and location unknown. Courtesy of the Plymouth Historical Soicety. |