Today's Throwback Thursday selection is  "Early Morning, Left-Handed" by Hilda Raz from her 2001 poetry book Trans. Raz's work is often an exploration of lives and selves transformed by both choice and chance.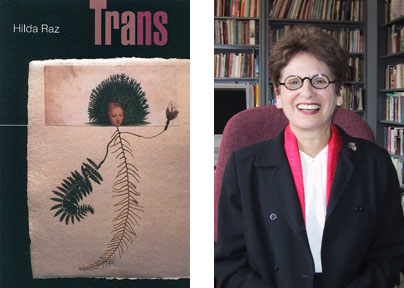 This "elegant and moving collection" is a deliberation on family, stability, and transformations that was wrought from Raz's experience with her son's journey to a transgender identity. As a feminist writer and professor who has studied gender issues, but also as a parent, Hilda Raz writes these extraordinarily poignant poems from a very special point of view. Their musings on "what it means to be a family, to be whole, and to know oneself" is a brilliant read that demands full attention and careful hands.
Hilda Raz's attention to trans issues did not stop with this poetic collection. She and her son Aaron Raz Link co-wrote the memoir What Becomes You (University of Nebraska Press, 2007), which "travels between women's experience and men's lives, explores the art and science of changing sex, maps uncharted family values, and journeys through a world transformed by surgery, hormones, love, and… clown school." Booklist praised their collaborative effort: "Scientist Link begins his fascinating account of gender reassignment by explaining scientific classification. . . . Raz writes of her child with rare and moving candor. . . . Mother and son's poignant account becomes one of steadfast maternal love in the midst of changes only partly physical. Both knowingly return, always, to the terrain of the heart."
Link's work in coauthoring What Becomes You speaks on "turning from female to make and from teaching scientist to theatre performer." By writing this memoir together, rather than separately letting their works interact, the familial dialogue and dynamic is highlighted. In doing so, the two have created one of the most moving and memorable memoirs to date on a subject that is finally gaining the attention and understanding that it deserves.
---
Early Morning, Left Handed
Lear's five nevers over,
the fool hanged, and Cornelia
and Lear dead at last, Edmund
reported and yes he was loved
by both evil sisters, so what.
I'm awake in the dawn. Cold
stone floors. The cat. His
father loved him too, I tell
my son on the phone, my
son just married. Let him
cleave to his wife. Let my
old flesh resume its boundaries,
let go. No divisions of the kingdom.
Will they write of my courage
killing the snake? We know
the dreamy answer to that one.
Honey tea swirls us sweet;
never fear the village fair,
lights stay on all night.
Tea bags bottomless coffee
cup. Ashes in the grate sweeten
the garden provender. Clay.
Ripeness is all. The fool lives on,
my left elbow's cartilage feather.
---
HILDA RAZ is the author of many books of poetry including three published by Wesleyan University Press, Divine Honors (1997), Trans (2001), and All Odd and Splendid (2008). She is a professor of English and women's and gender studies at the University of Nebraska-Lincoln, where she is also the editor of Prairie Schooner.