This week's  Throwback Thursday selection is an excerpt from Aimé Césaire's long poem Notebook of a Return to a Native Land (2001), edited and translated by Clayton Eshleman and Annette Smith. Wesleyan University Press also published a bilingual edition of Césaire's original 1939 Notebook in 2013, edited by A. James Arnold and Clayton Eshleman.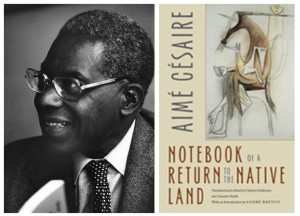 .
.
And we are standing now, my country and I, hair in the wind,
my hand puny in its enormous fist and now the strength is not
in us but above us, in a voice that drills the night and the
hearing like the penetrance of an apocalyptic wasp. And the
voice complains that for centuries Europe has force-fed us with
lies and bloated us with pestilence,
for it is not true that the work of man is done
that we have no business being on earth
that we parasite the world
that it is enough for us to heel to the world whereas the work
of man has only begun
and man still must overcome all the interdictions wedged in
the recesses of his fervor and no race has a monopoly on beauty, on intelligence, on
strength
and there is room for everyone at the convocation of conquest
and we know now that the sun turns around our earth lighting
the parcel designated by our will alone and that every star falls
from sky to earth at our omnipotent command.
.
AIMÉ CÉSAIRE (1913–2008) was best known as the co-creator of the concept of négritude. His long poem Notebook of a Return to the Native Land, written at the end of World War II, became an anthem for Blacks around the world.
CLAYTON ESHLEMAN is a professor emeritus at Eastern Michigan University and the foremost American translator of Aimé Césaire. He is the author of The Grindstone of Rapport / A Clayton Eshleman Reader and translator of The Complete Poetry of César Vallejo. He was also the editor of Sulfur.
ANNETTE SMITH is an Emeritus Professor of Literature at the California Institute of Technology. Besides publishing books and articles on various aspects of colonialism and racism, she has co-authored with Clayon Eshleman three previous translation of Aimé Césaire.