An annual anthology of the best new experimental writing
BAX 2015 is the second volume of an annual literary anthology compiling the best experimental writing in poetry, fiction, and creative nonfiction. This year's volume, guest edited by Douglas Kearney, features seventy-five works by some of the most exciting American poets and writers today, including established authors—like Dodie Bellamy, Anselm Berrigan, Thomas Sayers Ellis, Cathy Park Hong, Bhanu Kapil, Aaron Kunin, Joyelle McSweeney, and Fred Moten—as well as emerging voices. Best American Experimental Writing is also an important literary anthology for classroom settings, as individual selections are intended to provoke lively conversation and debate. The series coeditors are Seth Abramson and Jesse Damiani.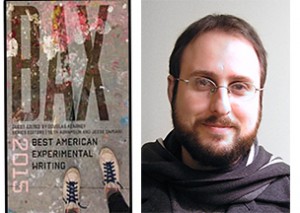 DOUGLAS KEARNEY is a poet, performer, and librettist. He is the author of Patter and The Black Automaton. He lives in Los Angeles. SETH ABRAMSON is a doctoral candidate at the University of Wisconsin–Madison and author of five books, including Thievery, winner of the Akron Poetry Prize, and Northerners, winner of the Green Rose Prize. He will join the University of New Hampshire as an assistant professor of English in August, 2015. JESSE DAMIANI was the 2013–2014 Halls Emerging Artist Fellow at the Wisconsin Institute for Creative Writing and has received awards from the Academy of American Poets and the Fulbright Commission. He also lives in Los Angeles.
"The permission is on every page here. The best annual experience where space is held for radical experimentation is in this book. Thanks to the editors for really keeping it real."

—CA Conrad, author of Ecodeviance

"Whether oath, tweet, conspiracy simile, or tour of Hummeltopia, this anthology swings with verve and nerve from CM Burroughs's 'juncture of almost' to Roberto Harrison's 'contaminate network of paradise.' The experiment lives! It exists, Lance Olsen writes, 'the same way, say, future dictionaries exist.'"

—Elizabeth Robinson, author of On Ghosts
"harriot + harriott + sound +"
The pitch and time of luters
bring atlantic situations
all the way across. the moon
thing is a water thing at
midnight and the table
burst with variation.
the beautiful riot say
I'm not like this and
walk away embrace and
dig up under normandie.
what's a black singing body
got to do with it? look at
my shoes. the setting partly frees
the dissonance in compensation
and tsitsi ella jaji frees the rest.
frayed means are a thingly
jingly nette; you can't help
yourself if you take too much.
—by Fred Moten
November
250 pp., 6 x 9"
Unjacketed cloth, $40.00 x
978-0-8195-7607-1
Paper, $19.95
978-0-8195-7608-8
eBook, $15.99 Y
978-0-8195-7609-5