Join Us @ AWP 2016, in Los Angeles!
Booth #1213

Don't miss these events:
A Lunch Time Reading at Ace Hotel

Thursday, 3/31: Noon–2PM 
Ace Hotel, 929 South Broadway, Los Angeles
1913 Press, Sidebrow & Wesleyan University Press present:
Rae Armantrout
Fred Moten
Ben Doller
Sandra Doller
Amaranth Borsuk
Kate Durbin
Lily Hoang
Mathias Svalina
Just Saying: A Tribute to Rae Armantrout

Thursday, 3/31: 3-4:15pm
Room 502 A, LA Convention Center, Meeting Room Level R255
Stephen Burt
Amy Catanzano
Catherine Wagner
Monica Youn
Rae Armantrout
Four author-critics approach Armantrout's work from a variety of angles, including her association with Language poetry, her exploration of science through verse, her treatment of pop culture and current events, and her merging of everyday experience with epistemological questions about perceptions. Read more here.
Friday Afternoon Cocktail Celebration for BAX 2015

Friday, 4/1: 4-5pm, AWP Booth #1213
Purchase a copy of Best American Experimental Writing, 2015 for $10 (50% off cover price) & enjoy a free Moscow Mule!
Book Signings @ Booth #1213
Rae Armantrout (Itself)–Thursday, 3/31, 4:30PM
Robert Fernandez (Scarecrow)–Friday, 4/1: 10AM
Ben Doller (Fauxhawk) –Friday, 4/1, 12PM
Stop by check out our new books!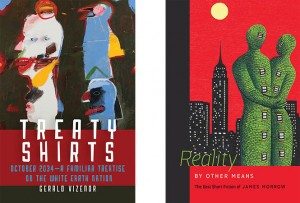 Treaty Shirts: October 2034—A Familiar Treatise on the White Earth Nation (Gerald Vizenor)
Reality by Other Means: The Best Short Fiction of James Morrow (James Morrow)

Common Sense (Ted Greenwald)
Age of Reasons: Uncollected Poems 1969–1982 (Ted Greenwald)
Azure: Poems and Selections from the "Livre" (Stéphane Mallarmé)
Fauxhawk (Ben Doller)
Scarecrow (Robert Fernandez)
The Book of Landings (Mark McMorris)
A Sulfur Anthology (edited by Clayton Eshleman)