Gerald Vizenor has been welcomed by Birchbark Books for a reading from his new book Treaty Shirts: October 2034—A Familiar Treatise on the White Earth Nation. The reading will be held at the Bockley Gallery (near Birchbark Books in Minneapolis) on Tuesday, August 9th at 7pm.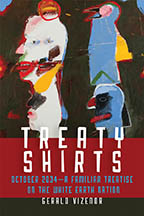 Birchbark Books is owned and operated by New York Times bestselling and National Book Award winning author, Louise Erdrich (Ojibwe). As a store that prides itself in their belief in "the power of good writing, the beauty of handmade art, [and] the strength of Native culture," they are the perfect partner to Vizenor's Treaty Shirts. In this masterful, candid, surreal, and satirical allegory set in an imagined future, seven natives are exiled from federal sectors that have replaced the federal reservation system. Banished because of their dedication to a democratic ethos, they declare a new, egalitarian nation on an island in Lake of the Woods—a lake bordering Ontario and Minnesota.
The Bockley Gallery has long been supportive of Minnesota artists, and indigenous artists—including George Morrison and Norval Morrisseau.
Gerald Vizenor is a prolific novelist, poet, literary critic, and citizen of the White Earth Nation of the Anishinaabeg in Minnesota. One reader described Treaty Shirts as feeling "utterly like Ojibwa poetry [or dream song] in prose form." Vizenor as long been known for his uncanny ability to transfer the power, imagery, and natural motion of traditional storytelling to the written word. He will chat with guests and sign books following the reading.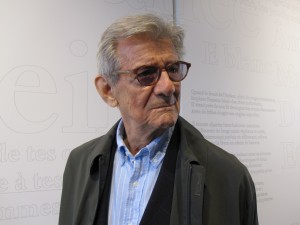 GERALD VIZENOR is Professor Emeritus of American Studies at the University of California, Berkeley. His novels Shrouds of White Earth and Griever: An American Monkey King in China both won the American Book Award; Griever also received the New York Fiction Collective Award. He is currently writing his sequel to Blue Ravens, an engrossing historical portrayal of Native American soldiers in World War I.
Vizenor's novel Blue Ravens and Favor of Crows: New and Selected Haiku are available in paperback now!
Visit our Gerald Vizenor's companion website.