"bury it is lit with imagery and purpose that surprises and jolts at every turn. Exuberant, wild, tightly knotted mesmerisms of discovery inhabit each poem in this seethe of hunger and sacred toll of toil. A vitalizing and necessary book of poems that dig hard and lift luminously."
—Tyehimba Jess, judge of 2017 Laughlin Award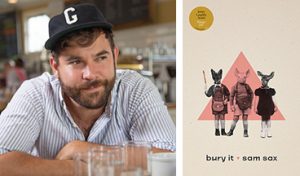 sam sax's bury it, winner of the 2017 James Laughlin Award from the Academy of American Poets, writes from the root of experience with poems written in response to coming of age, young gay suicide, desire, and generational weight. What follows are raw and expertly crafted mediations on death, rituals of passage, translation, desire, diaspora, and personhood. What's at stake is survival itself and the archiving of a lived and lyric history. In this phenomenal second collection of poems, sam sax invites the reader to join him in his interrogation of the bridges we cross, the bridges we burn, and bridges we must leap from.
sam sax is a queer Jewish writer and educator currently living in Brooklyn. He's the author of Madness, winner of the National Poetry Series, and the two-time Bay Area Grand Slam Champion.
Publication of this book is funded by the
National Education Association.
September
88 pp., 6 x 9"
Paper, $14.95
978-0-8195-7731-3
eBook, $11.99
978-0-8195-7732-0 Poetry