Wesleyan University Press has recreated three enchanting, humorous chapbooks originally produced for friends by the late Kit and Joseph Reed. The books were written by Kit and lavishly illustrated by Joseph.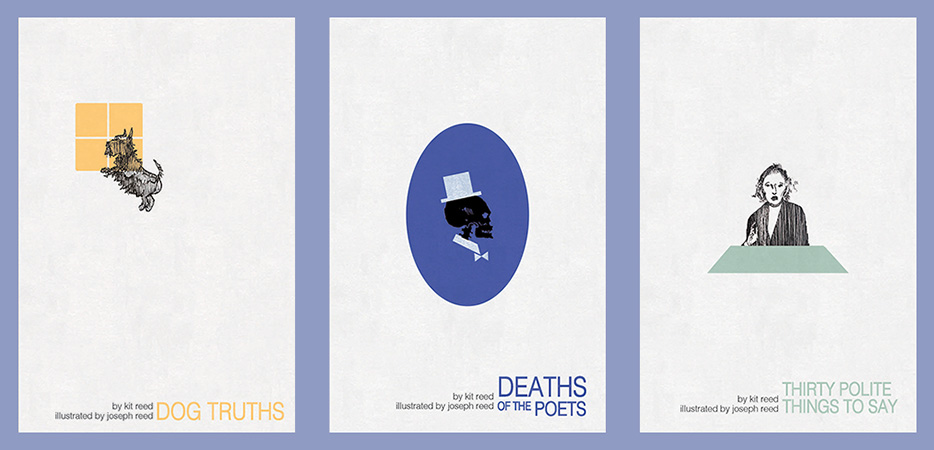 Amusing guide to social etiquette.
The preface reads: "There are times in the lives of us all in which we are at a loss for words. This volume attempts a partial solution." What follows are thirty things perhaps we shouldn't say, but often find ourselves uttering.
32 pp. 4 x 6″ Paper, $6.95, 978-0-8195-7859-4
          A whimsically serious chapbook about dogs
The chapbook includes absurd graphs, charts, and diagrams that tell the "truth" about various dog breeds—size, attitude, and likability. Dog truths are laid bare here, setting the record straight. Woof.
12pp. 4 x 6″ Paper, $6.95, 978-0-8195-7860-0
          A darkly humorous homage to poets and their deaths
Rhyming couplets meet slightly-sardonic etchings in this whimsically dark chapbook chronicling the dramatic ends of some of our most beloved poets.
34 pp. 4 x 6″ Paper, $6.95, 978-0-8195-7858-7
Kit Reed (June 7, 1932–September 24, 2017) was an American author and journalist whose short stories were nominated for the Nebula, World Fantasy, Shirley Jackson, and Tiptree Awards. Joseph Reed is Professor Emeritus of Film and American Studies at Wesleyan University.
Also by Kit Reed
The Story Until Now: A Great Big Book of Stories
Seven for the Apocalypse
Weird Women, Wired Women