An intimate portrait of a renowned conceptual artist
"One of the interesting things about living through a period is you know where the recorded history and the happenstance of the moment diverge. Consequently, having known Sol LeWitt since my days as an art student in New York in the 1960s, I appreciate the clear and concise manner that Lary Bloom has scrupulously chronicled not only Sol's artistic development, but also his personal life and his ever-changing social milieu. The results are an insightful and intimate portrait of the artist, the man and his times."
— Saul Ostrow, Founder of Critical Practices, Inc.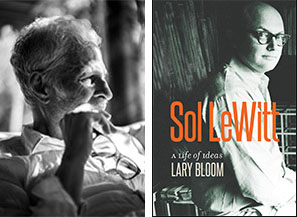 Sol LeWitt (1928−2007), one of the most influential and important artists of the twentieth century, upended how art is made and marketed. As a key figure in minimalism and conceptualism, he proclaimed that for the artist the work of the mind is more important than that of the hand. (He argued, "The idea becomes the machine that makes the art.") But even as his wall drawings and sculpture were admired around the world (installed, over time, by thousands of young artists, and marketed not as objects but as concepts), and even as he championed the work of hundreds of colleagues including many women whose efforts were spurned by the bullies of a male-dominated profession, he remained an enigmatic figure, refusing to participate in the culture of celebrity. Lary Bloom's biography Sol LeWitt: A Life of Ideas links the extraordinary arc of his life to his iconic work. The author draws on personal recollections of LeWitt, whom he knew during the last two decades of the artist's life, as well as letters and papers and over one hundred original interviews, including those with Chuck Close, Ingrid Sischy, Adrian Piper, Philip Glass, and Carl Andre. The result is a full and absorbing portrait of a man who, following the flashy and self-aggrandizing period of Abstract Expressionism and Pop Art, stripped art down to its basics and, with a band of rebellious colleagues, started over again.
Lary Bloom has authored or co-authored ten books including The Writer Within, The Test of Our Times, with Tom Ridge, and Letters from Nuremberg, with Christopher Dodd. He has taught writing at Yale University, Fairfield University, Trinity College, and Wesleyan University. He lives in New Haven, Connecticut.
May 7, 2019
356 pp. 28 illus., 6 x 9"
Jacketed Cloth, $35.00 978-0-8195-7868-6