In the recently premiered film, Wild Nights with Emily, directed by Madeleine Olnek, starring Molly Shannon (Emily Dickinson) and Susan Ziegler (Susan Huntington Dickinson), the famous nineteenth-century American poet is brought to life in a new sapphic light.
Based on Ellen Louise Hart and Martha Nell Smith's collection, Open Me Carefully: Emily Dickinson's Intimate Letters to Susan Huntington Dickinson, Olnek's new film brings to the forefront Emily's previously censured relationship with her sister-in-law, Susan. Departing from Terence Davies' serious and abstinent film, A Quiet Passion (2016), Olnek partners with Smith to unveil the powerful intimacy of Dickinson's letters, generating a new portrayal of Emily as someone who "lived on her own terms."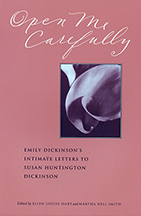 Since its original publication in 1998 with Paris Press, Open Me Carefully, has struck a chord in the poetry world, compiling into a single volume for the first time, selections from Emily Dickinson's thirty-six year correspondence to Susan Huntington Dickinson. Martha Nell Smith—who Olnek collaborated with to direct the film—is Distinguished Scholar-Teacher, Professor of English, and Founding Director of the Maryland Institute for Technology in the Humanities at the University of Maryland. Ellen Louise Hart is the author of articles featured in The Emily Dickinson International Society Bulletin, Emily Dickinson Journal, An Emily Dickinson Encyclopedia, Tulsa Studies in Women's Literature, The Women's Review of Books, and The Heath Anthology of American Literature.
To read more, visit your local bookstore or order a copy online with HFS Books.
excerpt from the book:
                                                             Sunday afternoon
So sweet and still, and Thee, Oh Susie, what I need more, to
make my heaven whole?
Sweet Hour, blessed Hour, to carry me with you, and to bring
you back to me, long enough to snatch one kiss, and whisper
Good bye, again.