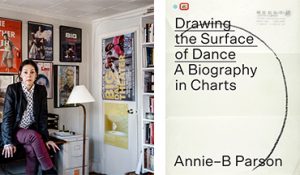 "Choreography—especially experimental choreography—is nearly impossible to describe before it happens or to capture once it's over.  In this book, through drawings and charts and personalized text, Annie-B Parson somehow manages to do both. " —David Lang, winner of the Pulitzer Prize for Music for The Little Match Girl Passion
Soloing on the page, choreographer Annie-B Parson rethinks choreography as dance on paper. Parson draws her dances into new graphic structures calling attention to the visual facts of the materiality of each dance work she has made. These drawings serve as both maps of her pieces in the aftermath of performance, and a consideration of the elements of dance itself. Within the duality of form and content, this book explores the meanings that form itself holds, and Parson's visual maps of choreographic ideas inspire new thinking around the shared elements underneath all art making.
Check out Annie-B's work at NYU's Skirball Center on November 8 & 9! Meet Annie-B after the show and get your book signed! 
Get tickets to David Byrne's American Utopia, choreographed by Annie-B Parson.
ANNIE-B PARSON is a choreographer and artistic director of Big Dance Theater. Parson has also made choreography for rock shows, marching bands, symphonies, movies, museums, objects, augmented reality, and people: David Byrne, David Bowie, St. Vincent, Mikhail Baryshnikov, Wendy Whelan, Laurie Anderson, Nico Muhly, Jonathan Demme, and the Martha Graham Dance Co.